Just taking a rummage through some of the pics in my folders, this photo stuck out for me.
I remember this shoot well, as it was one of my first that I was involved with way back in 2003!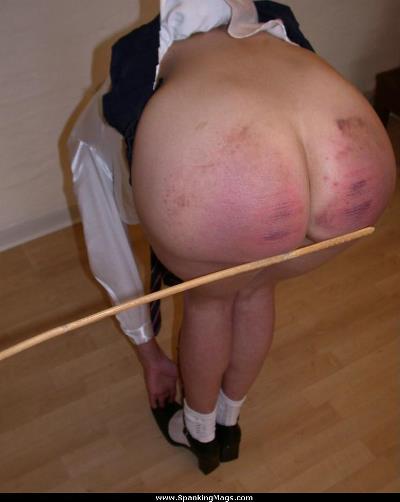 This little beauty of a set was stored (still is) away on the Archive section of the SOL Life Ezine files from 2003 at SpankingOnline
Thankfully, with technology improving online, there is a niche area of producing & re-editing these treasured movie files into Hi Res near DVD quality WMV playback from the out dated Real Player format. I'm glad this little shoot has been reborn and can now be seen as it was intended to from all those years back!
It's a FF punishment with Monica beautifully acting the schoolgirl and her domme, the irrepressible Irish Natasha, as HeadMistress. Nothing was faked when Natasha was involved, LOL. Monica's tears during the scenes were very real as the cane bit into her plump behind causing those wonderful marks.
5 minutes after we finished this scene, she was laughing and joking as if nothing had happened, despite the obvious marks on her derriere. What a professional!
I had the joy of administering several spankings in earlier scenes so her bottom was well prepared for this Final scene of the day. This was a Classic Schoolgirl Punishment at the new E-zine site SpankingMags.com  
Take a look at this FREE GALLERY of Monica's Punishment
Enjoy, Chief.