OMG, what can I say about this movie?
I was bored and was checking over some old clips that I had from those mad folks at LUPUS!

This film stuck out for me, it was made a couple of years back (I think) but the plot, costumes and sets were impeccable!
I mean, placing the wench on a splintered thrashing table and tying her down with rough hessian rope that chafed her flesh was cruel enough…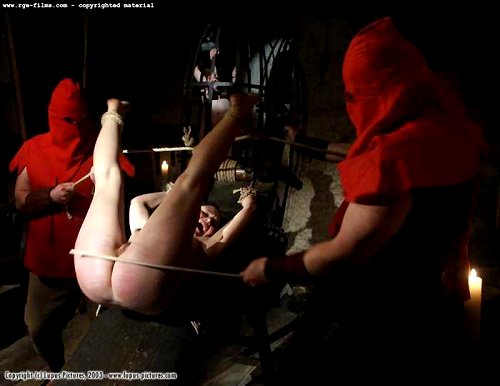 But to then place her on the whipping horse, naked and gagged then thrashed with a birch was unbelievable!
I admit I got hot watching this movie again and I knew I'd seen a Gallery somewhere and "hey presto!" I found it tonight.
Click on the link HERE to see the pics from this movie, I'm afraid I haven't a gallery myself or clips to share but may try to get a clip or 2 up if I have permission.
Otherwise, I would highly recommend this site if u haven't seen what these people get up to in the Czech Republic!
What they say about Lupus Pictures is all true, some of their stuff is quite unique, it's not for everyone, but I like it! 😀