I was searching for some caning clips on the latest Gallery updates and remembered this great little scene.
Not much acting was required as the poor actress playing the schoolgirl (Rowina) was genuinely scared of the cane! Take a look at the pics below (click to enlarge them) and underneath that is a short but very hard caning scene. You will see why she had reason to be scared! The poor mite was trembling beforehand, she is quite small, about 5 foot tall. I was on camera 2 that day (catching the facial reactions) and there was much wincing as the rod crashed down on her teen cheeks.
Check out the welts across her red cheeks!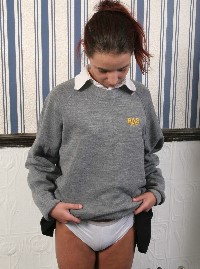 CLICK HERE to see this Great FREE CANING CLIP
Anyway, I thought you all deserved to see this scene before anyone else! I've only just made the latest galleries available.
I always try to look after my esteemed readership here! I hope you appreciate this short scene, it was used to promote the SPANKPASS.
The actual film came from the SpankingOnline site if you are interested and wish to look it up (filmed end of 2005, I recall).
I will try to get some more updates up this week but am maxed out at the mo…so much to do, so little time! 🙁
'Til then… Chief.  🙂