I've always been fascinated by asian girls (I once had a long term Thai girlfriend when I was at college – many moons ago).
Seeing these small compact ladies taking a thrashing at the stern hand of the mistress at the site in detail was quite a revelation!
It features gorgeous girls, many who are resident & almost all who are in an age group of 18-23 and no more.
Take a look at the FREE Galleries that I have produced myself from the Cutie Spankee site.
I am currently negotiating for more access to obtain the latest updates in stills and movies which are now in higher resolution.
The pics I have are from my personal archives.
Each Gallery contains 20 pictures all in Hi Res format and are beautifully shot.
It's what I like about this site, the interesting location shots, the costumes and of course the girls and their strict but striking lady dommes.
Cutie Spankee almost exclusively features FF punishment and I'd say at least 50% covered OTK and bare bottom hand spanking.
However, there is still a lot of shoots that feature interesting implements such as various rulers and paddles as well as the cane (hoorah!)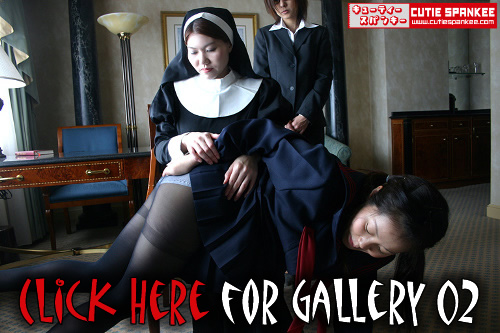 Did I mention the costumes? LOL The attention to detail and the uniqeness of this site makes it very appealing.
I know there are those that feel a girl must be punished or totally shamed or virtually black n blue. The Japanese do it more subtly but it's no less striking!
I found viewing the content very erotic and there really are some very hot girls who feature reguarly with tons of pics and new clips to add to your collection.
You don't need to understand everything although most films now have English subtitles, just hearing the girls crying and yelping in Japanese, you understand their anguish! 
Thanks to the US Dollar being so weak, this site is still only priced at around $19-20 (I think) and for us Europeans it's cheap..cheap…CHEAP!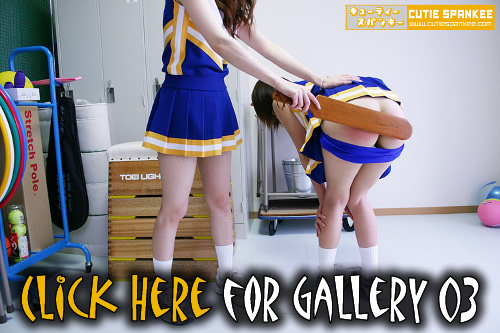 Hmmm, did I mention some oh so cute girls on this site? heh heh….. 
Tiny asian girls dressed in cheerleader outfits, oh boy! Just some of the great stuff in this final gallery.
I have advertised my galleries here in this update and placed them in the FREE Spanking Galleries on the right hand side menu (Japanese Special)
Hopefully I will get a reply off the site owners soon as I wish to show you more (not too much of course or I'll get told off!) but enough to show you just how good I think this site is!
Until then, enjoy my appreciation of the girls who feature at CutieSpankee.
Comments as always appreciated.
Chief  😀