I got lost going through some of the archived content at SpankingOnline, there is just so much of it!!!!
However, I rooted around the depths of spanking depravation and pulled out a few choice pics from the turn of the Millenium!
It doesn't seem that long ago, but if you take a look at the pics below you will see a certain rawness to the earlier content.
Of course, the models were still there, looking fantastic, camera work was a little edgy then as well…
I have a few surprises in store for some of our regular readers.
First – Can you spot one of SpankingBlogg's resident favourite spanking models in the first 8 pics?
Also, the 2 bonus pictures I have here were from a larger photoshoot way back featuring one very lovely lady still in the spanking business today!
She's still absolutely gorgeous, can you guess who she is? Just look at her nicely toned body…it's still looking buff today!
Tsk Tsk, "caught by leering Uncle for masturbating over his erotic fiction she stole from his bedside table!"
Ah, these storylines don't change much in 6-7 years, LOL!!!
Anyway, I will feature more of this lovely beauty another time. Hope you like her 2 teaser pics!
Gawd help me if she's reading this! LOLOLOL!
BONUS PHOTOS – featuring someone's blog I read (from 2001/02)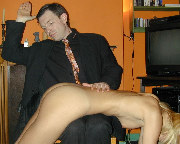 For those of you who are members of SpankingOnline, why not take a look at the Archives? There's some great stuff waiting to be discovered!
There's also some great nasty clips from the old days (in Real Format) in the Velocity Zone Sections.
Check them out – "velocity" being the operative word of whatever method of correction was used on the bare bottom!
I will feature a few clips in the near future when I have more time.
Comments or feedback are appreciated as always.
Chief.