There's so much data, so what I've done is compress it all into 2 pages of Galleries.
The first covers images from some of the stuff we produced with Katie, new girl Belinda and Miss Smith.
I also had a "hand" in proceedings as well with Belinda's wobblesome bottom!  😀
The second is a series of impromptu pics throughout the day including a couple of Belinda looking glum after I had warmed up her butt!
Actually, tbh, as always, our shoots are hectic but never dull!
They are always full of laughter along with the familiar sounds of cheek thrashing!
I even took a part in a comedy film we did about 2 "spanking entrepreneurs" who have a failed website & employ new model Belinda.
They are useless, using a tiny camera but then turn on Belinda as she mocks them & she gets a damn good spanking & strapping…
I'll feature this movie in more detail soon when I know where it will end up (probably Spanking Digital).
I actually looked at the many pics we snapped with my smaller pocket camera and some are quite good! (LOL)
I'll make sure I give you all an EXCLUSIVE SpankingBlogg Gallery of these as always!  😉
So take a look at the 2 Galleries below & you'll get an idea of what will be coming soon.
I failed to mention Elizabeth Simpson also turned up briefly, the recent Gallery for "American Paddle" was filmed at this shoot!
I haven't seen the whole movie yet as I was elsewhere filming, but from what I've seen so far……..
It's as you'd expect….HARD Spanking action!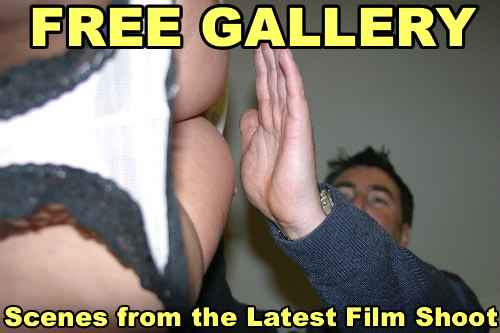 The SpankPass will cover most of what we filmed during this photoshoot.
For all other content, some featuring naughty Katie, that will be at SpankedSchoolgirl!