There is a FREE sample clip of the type of humiliating punishment that Nikki Montford endured & it has hardly begun!
It is out NOW as the latest special E-zine update at SpankingMags. At the time, this movie was a benchmark as it took whole new levels of punishment in the home to a frightening highs! When we used to briefly do DVD sales, this was by far the most requested film.
DVD sales are often less required with the advent of new technologies and faster broadband. To be honest, it was yours truly that had to make the damned things and they were often a pain and rarely profitable overall! Too much time in the old days of waiting to burn them, provide graphics and queue at the Post Office for a few Dollars profit!
SpankingMags has covered all this with providing only near DVD quality films in ALL their movie content!
Taker a look at the FREE Gallery I made yesterday and then click on the link below that for the movie clip. Remember, this movie clip is EXCLUSIVE and you will NOT find this elsewhere! If you do, it will have been copied from this Blog. The Chief never takes second place!  😉
RIGHT CLICK (& save as) HERE FOR MOVIE CLIP – size 6.48mb
I hope you enjoyed the early part of this movie, Nikki had already been thrashed severely earlier with the cane. After these scenes where she was humiliated about her vagina, she was paddled strapped and caned yet again! Her parts were well and truly punished! A landmark film that I can not rave aboiut highly enough.
__________________________
On a different note, Katie Leigh fans will be pleased to know that her NEW film is now at Spankedschoolgirl Called "Schoolgirl Misery" it's a harrowing tale of her taking the cane hard & made to feel embarrassed on the punishment table! Her cockiness is soon replaced with shame as her buttocks are thrashed in all manner of humiliating poses! I've seen the whole film & of course I was there when it was filmed – it's a real cracker!!!!
More about it below.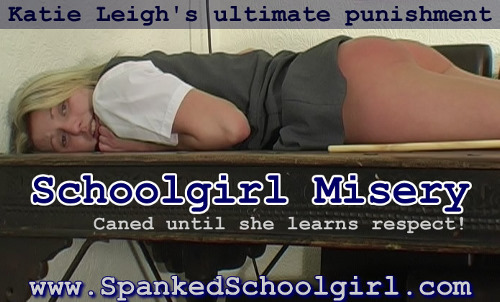 I promised that I'd get some more of the Female Punishment Manual up and review more worthy Dollar Spanking Sites.
So until next time, kind regards.
Chief.
Got time to spare? Take a look at what the 20 Spanking Models got up to for the – Race for Life
Lots of free pics – bravo to all the girls involved!
Well done on raising so much money, a whopping £10,900 (more than the 4k they had hoped for)