Poor Amber, she explains to us tearfully how she's really for it this time! Not just any old spanking this time, she made a spectacle of herself and now she's going to get a right thrashing! See the wmv clip below where Amber tearfully tells us what is going to happen.
It's a great intro, I love the camera work as she talks to us by th ereflection of the mirror. Then of course we get a chance to see that gorgeous bottom of hers ready to be punished!
Click on any small pic to see the introduction to "Feeling Bad"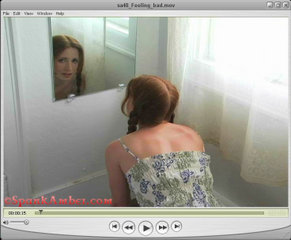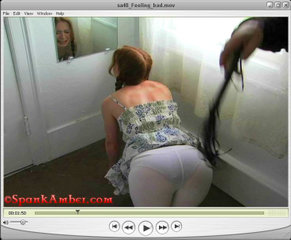 Not just spanked, but she is flogged with a Cat o' Nine Tails – ouch! Just remember that Amber uploads her movies in 2 formats, one in very high resolution Quicktime (basically DVD quality) and also in WM format which is still Hi Res (better than my clip here) but easier to download for those impatient like me!
*************************
Amber's latest Update!
Amber finally decides to "switch" and in this delightful sexy FF punishment film, new girl, Kamala goes OTK. As Amber says on her Blog:
I give a spanking for my first time ever. Introducing the lovely Kamala. She'd never been spanked before except for a couple swats on her butt during sex and her bodybuilder mom growing up. I make up her face and hair pretty, then give her round fanny a rouging!
From her sounds I would say she enjoyed herself. She also emailed me the next day asking when she could do it again!
 From these pics you can see just what these 2 get up to! This was a first for Kamala, and a great little scoop for Amber in her first FF movie! I love the freshness and the direction of the movies, keep up the good work, Amber…