Slightly different update after yesterday's mega update, check out what I have been viewing this morning!
Girls caned hard, gorgeous East European girls being pussy whipped and a lovely buxom lass given a cold shower then caned hard for smoking pot!
Just some of the updates today which are all current!
So First, to SpankingServer, my friendly spanking site from Eastern Europe!  😉
If you have ever doubted the beauty and abundance of the girls in question, take a look at the thumbnails below!
Also, I just *love* that vice like contraption and the restraining blocks they use whilst punishing the girls!
OK, so now I've convinced you of why I am looking at the site, want to see a cruel and unnusual punishment?
Of course you do! Poor Hannah, who I've featured before (her previous strapping is listed in the FREE Movie section on the right bar) gets a stinging pussy strapping!
I believe the implement used is made of rubber and designed especially for this type of punishment!
From a few converstaions I've had with spanking models who have done this, it bloody hurts, don't let anyone say otherwise!
Using leather etc on such a vulnerable part of the female anatomy would cut their mons venus to shreds if the edges landed in the wrong place!
(well, with the force Mr SpankingServer uses at least)
When you download the clip please save it to your PC first as it's pretty large! First of all, click on the image to view the download page.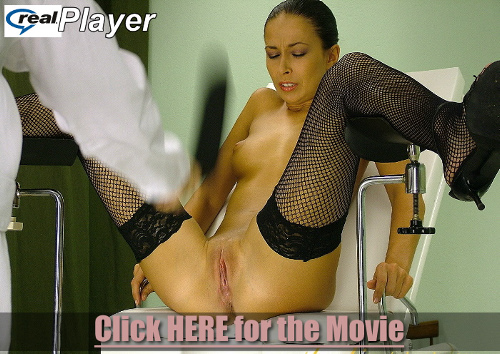 **********************
Next up from Girls Boarding School is the latest film, entitled "Cold Shower" which features a rather buxom thing.
It's refreshing to see a girl with an hourglass figure at GBS getting her chunky bottom caned hard!
This movie stars naughty Meggie who thinks it's clever to smoke pot whilst relaxing at the villa courtesy of GBS!
Take a look at the pictures below so you get an idea of what happens to stoned Meggie as she is brought back to reality quickly!
A very angry Tom shouts and berates Meggie for smoking dope and throws her under a cold shower to sober up!
Ordered into the house, still damp, she is caned naked on the bed, snivelling and begging for his punishment to stop!
See just the very first part of her ordeal which I have been allowed to show below!
It's a cracker!  😉
Want to see the whole movie & more stuff like this? Click the banner below for the FREE Tour
GirlsBoarding School is part of the VIP Pass network of sites – see below
Well, I hope you enjoyed these updates of what else I have been perusing this weekend.
I have some great updates featuring some new dirty girls from SpankingOnline coming soon, so don't go far!  😉
Regards,
Chief.