This is an awesome film, not strictly in the spanking genre and I accept not everyone will appreciate this!
However, take a look at the pics and the 2 clips (there's 2 versions so you'll definitely be able to watch it).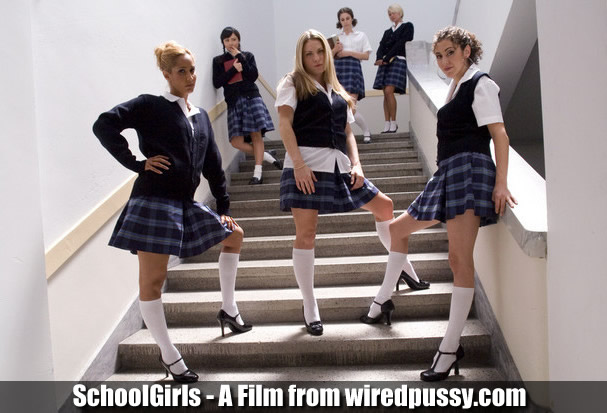 It features schoolgirls bullying then sexually abusing the lovely innocent LeiLani led by stunning blonde, Harmony.
Anyone who has been intrigued with some BDSM mixed with spanking, restraining and humiliation punishments will enjoy this.
It also features (as the site suggests) the use of electrical punishment/pleasures inflicted on the recipients.
Checkout the 2 clips below and then check out the 12 free pics I've made available so you get the total flavour of this film.
It includes spanking, paddling, and then covering electrical punishments, flogging and forced dildo worship and face sitting for the poor Leilani!
It's a very sexually charged film, so be warned in advance, it's HOT stuff!
Wow! Told you it was gripping stuff, eh? WiredPussy.com has an Extensive FREE Tour pages, so take a look.
For selected vid clips of this film, click on the thumbnails below – enjoy!  😀
*********************
Phew! So what next? Well, I was rooting around on SPANKPASS earlier today and came across this delightfully harsh schoolgirl punishment film.
Starring 3 old faves of mine, prefect Joanna and the 2 foreign students, Angelina and Catherine, are hauled in front of the Head for an horrific slippering and caning!
A serious no nonsense film with 3 sets of buttocks properly punished, just what I like to see!
As the missus is out, I had the chance to look at some Classic Schoolgirl Punishments.
Don't ask me why, but I found this schoolgirl discipline film at home very erotic, even though it was quite humiliating and a sustained punishment for Samantha.
The scene below is a movie clip of a bare bottom OTK, and uncle abuses his position by exposing her burning cheeks to see what feminine charms she's hiding.
It's just the tip of the iceberg, if that piqued your interest, then check out FetishFlixx as there are plenty of top movies in great quality like that!!!
There's a pervy quality about looking at this goth type teenager, There's something about her though, eh?
On the FetishFlixx theme, check out the 3 bonus schoolgirl movie galleries below
*****************************
Finally, at Calstar I just HAVE to show you this short clip and these pics!
It's such an under rated site, I love it, (Also the section features older films, remastered for internet download) as well as more recent productions!
What all the movies have in common are that they're proper long play (around an hour or more each!)
So there's a decent storyline as well as some terrific punishments. Simply GIGS of spanko stuff!
What I like about this particular film (Hard Lessons) is the flame haired Mistress who takes absolutely no crap off these 2 girls.
I was captivated by her, she's stern as hell but quite dinky in height, but you wouldn't mess with her in that mood!
Also, I adore that accent, hard to make out, a cross between Australian/Irish, maybe living in America for some time…anyway, I could listen to her berating girls all day!
Then there's the girls, one snivelling watching the punishment whilst the other's bottom turns redder and redder, and those plaid skirts…mm mmm!
Her punishments were pretty severe in this film, check out the 40 second movie clip below and you'll understand. 😉
What I did find at this site was that the wonderful flame haired Mistress switched in the Domestic section, so she's in some fantastic submissive spanking roles as well!
Someone remind me sometime about her if you want more.
Check out these great pics from the movie, this is what you get inside the members area at Calstar
I can't recommend this little gem of a site more.
Anyway, there's plenty of stuff for you all to digest over….this missus has just come back so I will have to feign interest in going food shopping now.
Sadly, if I don't go, I won't get the right red wines an nibbles, believe me, I've tried with the slipper and the threat of the cane but she never learns! 
Spankingly,
Chief.