Here's a special treat for lovers of FF Schoolgirl Discipline!
I recently mentioned the latest update (2 Schools) at SpankedSchoolgirl.com
Well, here now is an Extensive FREE Gallery with 2 FREE Movie Clips in 1500kbs playback!
It stars Jessica, who has a really awesome meaty rear with a pair of wonderful spankable buttocks!
The other schoolgirl is the very cute Heather who has been over Miss' knee far too often.
FREE GALLERY below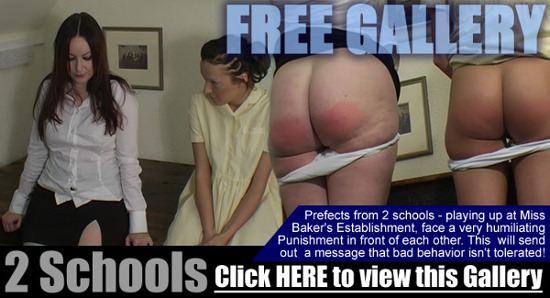 Now you have a proper taste for the movie, check out the 2 scenes below that are the start of both girls OTK punishments!
What I can tell you is that Heather foolishly continues to argue and bicker with Jessica when their OTK is over.
What happens next is that Haether is really humiliated and taught manners with the use of the strap!
Imagine being forced to stand on the table stripped, with her red bottom aching after a horrible strapping!
Will she ever learn? I hope not!  😀
Remember that for a STRICTLY limited period this site is part of the Seasonal Deal.
I have heard that this Offer – at this price – will NOT last long so I urge you to make the most of it!
Seriously – click below for more at this cheap low price while it's still available!
6 SITE ANNUAL SUPERPASS

Laters
Chief.