Avril Lavigne, she is such a fiesty little thing, isn't she?
Anyone who doesn't know who she is must be probably older than me, LOL.
One of the biggest (and damned cutest) female music stars about today!
She has still has that skater look about her but I SERIOUSLY would love to have her across me knee, her soft pert bare arse reddened by my hand!
Then to of course do all sorts of unmentionable things afterwards, heh heh!  😉
So, to honour (or "honor" for my North American friends) this I give you 2 Chief fantasies!
Ah, if only, eh? *sigh*
Click on the 2 images to get the larger pic, I have one as my wallpaper at the mo, lol.
Sorry if I was self indulgent there…
OK, onto my next theme and interest of the moment and that is "Hairbrush Punishments."
I got talking to a spanko friend of mine the other day about the use of the hairbrush and just how darned painful this instrument could be in the wrong hands.
I must admit, I have rarely used a hairbrush, but feel the need to go out and buy a few as they bring out a particular redness to a young woman's buttocks!
Mental note: Must make sure Katie Leigh gets the hairbrush next time I see her!  😉
The first update is from SpankingDigital, their newest film starring Justine Rosenberg!
I remember this as I was behind the cameras and was pleasantly surprised as the hairbrush wasn't intended for this film but then – there it was!
…and poor Justine's rosy red bottom paid the price.
There are also HD scenes, I can't recommend this film highly enough!
Click the image below for the FREE GALLERY.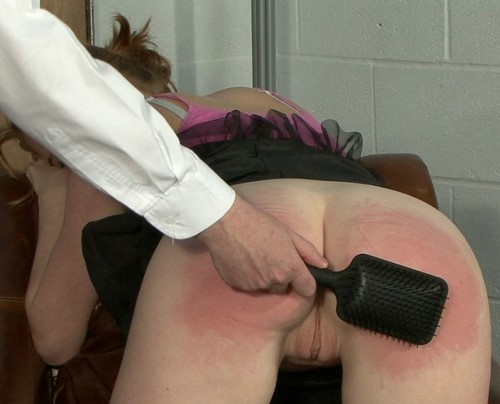 Continuing with the hairbrush, this is a peach of a site I haven't visited in ages but none the less it's worth becoming a member of!
Bailey has her own site, Spanking Bailey – it must be running for well on 2 years now, at least, and the archives are growing steadily with more exclusive content of this naughty girl.
I love the way her cheeks redden & mark so easily, a great little niche of a site.
Just click on the image below for the larger pic of this hairbrush scene…wow, amazing isn't it?
See more pics of Bailey HERE and take the tour of her site HERE
Being as it's late and I'm away from the missus, I have been stocking up on my spanking filth in my hotel room.
…oh and looky what I found here in my archives, I went and found the Gallery so you can all share in my good fortune!
From Erotic Spank (who really do live up to their name) this naughty scene with the hairbrush has had me going!  🙂
All I can say is Click below for the FREE Gallery….and ENJOY! (as I have done)
Oh, did I mention they have a $1 Trial Promotion? That's right…ONE DOLLAR! So click HERE, take a look see!

…and here's a few more bonus pics from this naughty film with Candi and that brush!!!  😀
OK, that's all folks!
If anyone has any requests, feel free to write in, I'll try to accomodate if it's feasable!
Night Night.
Chief.