There's some great brand SPANKING (heh) NEW Stuff featured today as well as a couple of classics!
I'll start off with the new stuff as they are both schoolgirl strapping & caning updates.
These 2 girls look absolutely awesome in their Private English school uniforms, and look even better with their knickers down!
The first is a very (and I mean VERY) naughty girl by the name of Lena Williams!
I've seen some stuff she's been up to and she is one very horny gal!
Decide for yourself here, all I know is that Miss Smith really enjoyed punishing these cheeks!
Is this the start of Miss Smith revealing that she is bi curious? Hmmm, we'll have to wait n see…
These are 4 preview pics which I doubt you'll see for FREE elsewhere as I certainly haven't made them available.
Now *that* is a lovely teen arse, isn't it?
Soft, smooth, cheeks with some meat, but not so much that she's banned from snacking at the Tuck Shop!
God bless SpankingOnline
************************

Next up is another new girl, very posh, stuck up, even…
However, she is soon brought down to Earth with a bump as she is strapped by Headmaster!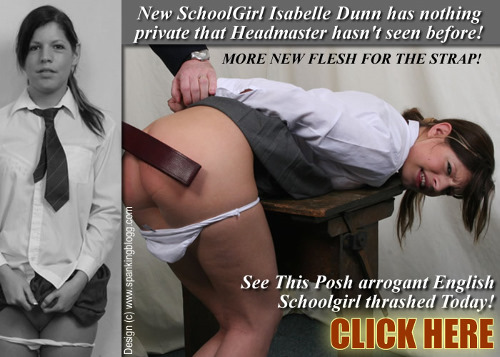 I have made available 4 bonus pics (click to enlarge below) which I *KNOW* are nowhere else yet.
Enjoy this EXCLUSIVE from SpankingBlogg!
There's also something about this new girl, isn't there?
I can't wait to see more of her, as I am sure you will also be begging for more (like me)
As far as I know, SpankedSchoolgirl is the only site to thus far feature Isabelle.
*****************************
Another cracking girl I have always like seeing chastised hard is the precocious Rosaleen Young.
Sadly no longer in the business, retired off to God knows where, but fortunately some of her older stuff gets remastered.
Just as the good folks at FetishFlixx have done, there are also more Rosaleen films here too!

Currently there's a FREE Clip of Rosaleen on the Home Page at FetishFlixx
However, Click on the image below and you will also get a chance to see some choice pics from this great bathtime punishment!
If you really have not seen anything of Rosaleen before (where have you been???)
Then there really is only ONE site to choose that amassed a MASSIVE archive of her content.
It could be a site on it's own, but it comes as part of Elizabeth Simpson's site at SPANKMYBOTTOM
There is shed loads of Rosaleen content stored here!
*******************************
OK, I'll be back soon with some reviews of some American sites that I've been asked to look at (I liked a new one in particular)
So til then, take care, be good, and don't let her get away with it!
Chief  😉