American Porn Actress, Cherry Poppins, with her chunky body and red hair has that girl next door quality I love.
Thankfully she's not the type to get surgically enhanced or covered in tacky tatts ending up looking a right bimbo!
She is also incredibly dirty, and as I am a red blooded male, I admit that I have a few of her filthy porn movies stashed away!
So you can imagine my glee when I noticed that she had made a film for Far East Media
(Makers of sex and spanking.) I realise this won't appeal to everyone, but to those it does…read on and enjoy!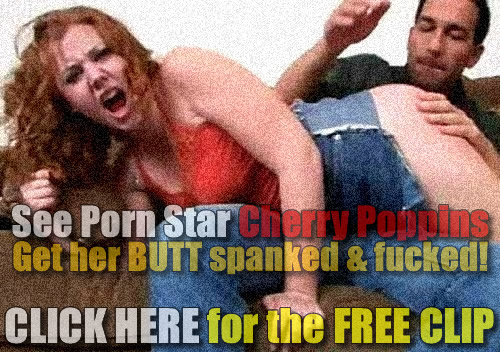 OK, yeah, she'll get her bare arse slapped, groped and she'll perform a great blow job
(I have a really mucky vid of her performing one of the hottest BJs ever!!!)
and she'll get her pussy stretched with that lucky guy's cock whilst he still gives her wobbling cheeks a slap, the smug b*stard! 😀
The Pics below (click to enlarge them) are from the movie, You'll get the idea from the intro clip above what it's about, eh?
Believe you me, it's a naughty site and if you fancy seeing sex and spanking done well…then this is the site!
Far East Media – (God knows why it's called that) Take the EXTENSIVE TOUR HERE