Got some cracking FREE Galleries and Movie Clips for you all today!
Some of you might have noticed I was helping out with a colleague's blog HERE earlier today!
In case some of you are just too loyal to me (LOL) I have posted a couple which are the same (below) and added some fresh stuff as well!
2 Sites I'm showcasing today with plenty of recent updates are HDSpank.com and SlutSpanking.com

I'm really beginning to take to this whole pure Hi Definition stuff now, as I hope that those of you with fairly new PCs etc can also appreciate.
I've had a few people say the clips are disjointed, don't work etc, well, here's a few tips once again.
Remember, I'm not a techie, so don't blind me with jargon, the below is a rough guideline of what you need and what you should be doing.
The below guide is for Windows users (XP and above, anything before that, what ARE ye doing using old operating systems? Get a new one pronto!)
You should have Windows media Player version 10 or 11 installed (I prefer v10, but that's me)
You must save the clips first to your PC/laptop –
If you click on the clip and it tries to play it will try to play to your temp folder, you can't do this.
Right click your mouse and choose the option "save target as…" and save the clip/movie to a file or folder of your choice.
Once saved (especially iof it's a full file 500mb file for example) go into the folder and double click it to play.
Obviously having a decent broadband connection really helps with larger file downloads, anyone streaming clips should not, it's not designed for that.
All content should ideally be saved first, ok? Finally your PC must be up to playing back HD which is a playback rate of 6300kbs+
This is at least 3-4 times more strain on your graphics processor than our standard (but very good SD at around 1500-1700kbs)
Remember that some sites have playback rates of 500-700kbs, so you get an idea of the quality (it's basically DVD quality).
Any PC with less than at least a Gig of RAM, a duff processor or was bought cheaply a few years back probably won't hack HD at the mo which is a real shame.
High Definition will eventually become a standard, just as SD Playback of 1500-1700 is already becoming commonplace.
I remind you all that HDSpank along with many of the SpankPass sites have many HD Movies scenes in place already too.
However, HDSpank is unique as ALL their content is HD (there is also an SD Playback back up as well, but this site is ALL about High Definition!)
OK, enough of the waffle, lets get to the updates
Lena Williams is fast becoming one of my fave girls, I don't know what it is about her, whether it's the sobs or those big doe eyes as she looks at you pleading…
Perhaps it's her chunky bottom that wobbles under the crashing strokes, or her hairless minnie with that lovely slit, when her knickers are down revealing her full shame!
I don't know what it is, but she's got something and I want more of it!!! 😉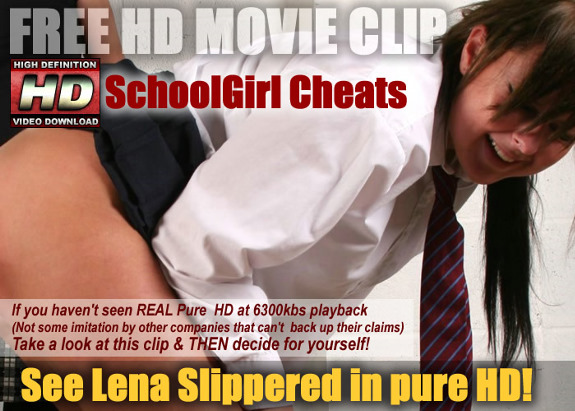 Schoolgirl Cheats…and with Miss Smith, she even cries and sobs beautifully! This movie is now available in full at last!
A new movie update in full HD out now starring Lena is a corker!
Once again with Miss Smith, this is called "Naughty Daughter" – just check out the pics from this movie below!!!
Lena is really HOT in this film, I've seen the finished article and it's a cold shower moment! 🙂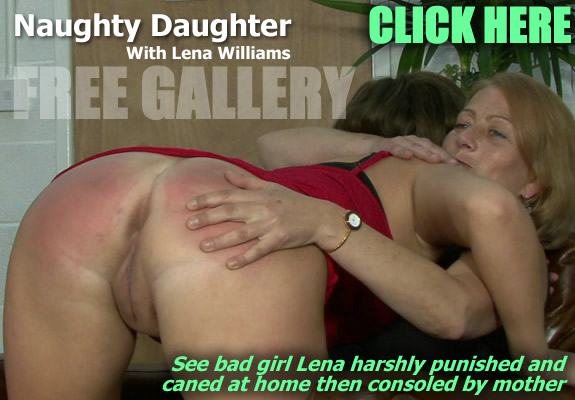 There's more of Lena on the HDSpank homepage, anymore of that and I can't continue!
Well, next up isn't helping me in avoiding a hosing down! Uh oh…it's Katie Leigh's latest stuff from SlutSpanking!
This movie is now available in full and as it's a schoolgirl spanking theme, I'm very happy!  😀
Katie and Isabella, her co bully are stripped and both are slippered severely, then katie is caned as she was the ringleader!
As daft as ever, but delightfully precocious, we get to see Katie's gorgeous facial expressions and of course her tight buns thrashed red raw.
Check out the movie clip below for part of Katie's caning scene.
I just had to show you another Gallery and a FREE Clip of Katie below, in case you were wondering if she's for real!
Now THAT is a naughty slutty girl we all know and adore! Oh boy!
FREE Masturbating Spanking Gallery – FREE Masturbating & Spanking Clip

Don't forget that on the home page of SlutSpanking.com there are more movie clips from Katie's recent films.
If these don't tempt you, maybe your shower isn't lurking with a spray of cold water!
Finally, here's what you'll be missing out on at SpankingServer this week if your membership has run out!
Click on the images below to enlarge, I'm not doing myself any favours whatsoever in the cold shower stakes. 
You gotta love those girls from Eastern Europe, eh? Czech Republic, Poland and Hungary, I salute you!!!
Check our more girls on the bench HERE at SpankingServer
OK, finally, here's my PIC OF THE DAY from the excellent Spanking & Shame

The full shame of the girl waiting for her inevitable punishment! (cold shower now on for me!)
Ah, how a girl should wait for her punishment, time to hose off now…
Back soon,
Chief.