The first pics and updates are now starting to come through and here they are!
These are the earliest FREE Pics anywhere on the net of gorgeous Jodie and new girl Tiffanny.
I have also managed to get the first preview pics of Jodie in her NEW film at SpankedSchoolgirl as well!
Images are scaled down versions (originals are massive!) of the HQ images at SpankingOnline
Click on thumbnails below for larger images.
SpankingOnline is always 1st with newset updates from the film shoots.
As the flagship site it has a duty to show what's available or up & coming! So this schoolgirl-fest is no exception.
***************************
Jodie stars in her 1st exclusive spanking film at Spankedschoolgirl
It's so new that I may have messed up the title, LOL!
Either called "Disruptive Detention" or "Detention & a Smacked Bottom!"
As you can see, Jodie gets her oh so cute buttocks thrashed during her detention!
…and yes, stern mistress is Jessica, so lovers of her large wobblesome bottom will be happy as well.
I'm sure I'll be bringing you her red bottom thrashed in later updates!
So look out as I will happily inform you of when she stars in forthcoming movies.
Some of you may remember that she has already been in a couple of SSG productions!  😉
Back to some EXCLUSIVE unseen images from Jodie's update out NOW
Mmmm, I can never get enough of those exposed cheeks!  😀
********************************
*****************************
Finally, check out Kailee at RealSpankings, one of my present obsessions.
I've seen her elsewhere but I think her best work is here, an excellent spankee temptress!
See her latest self flagellation updates which are now out.
When girls properly spank and paddle themselves, I find it a real turn on!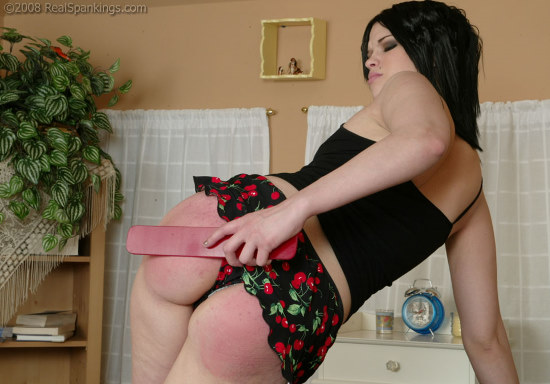 Check out more pics of gorgeous Kailee and that fine reddened ass below! Mm mmm
Nothing more to say apart from the fact there's a darn site more for members, of course!

OK, that's enough for now, all that thrashed female flesh has got me hot n bothered!
Back soon of course.
Regards, Chief.