One of my fave girls Heather Stanton features in some great films at at SpankingDigital
This is one of the cracking spanking movie specialist sites and now also features pure HD scenes to compliment the Hi Res Movies.
Check out the FREE Picture Gallery of Heather in her film "Needs it Bad" she goes through a test of various punishments:
Spanking, Strapping and Caning. You get to see some great close up shots of her reddened globes – awesome!
Check out the first FREE Gallery below.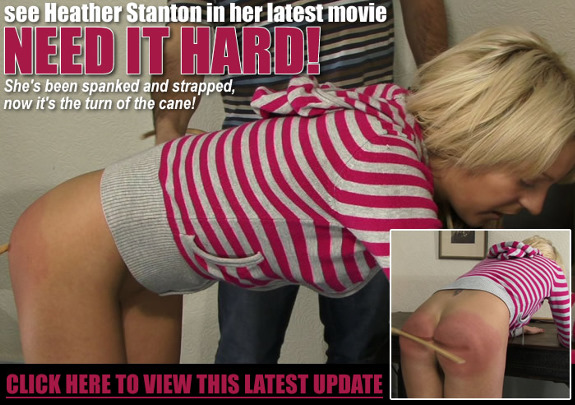 Now take a look at the fine movie clip below, see her globes wobbling under duress after her caning.
The 2nd Movie Clip is also from a very recent update and this is a short HD Clip.
Longer HD scenes are obviously available to members of SpankingDigital
*******************
There's a brand new movie at SpankedSchoolgirl featuring new girl Jenny in a great OTK movie.

I have to admit, I was there at this filming and Jenny was an absolute delight, she just wouldn't stop smiling.
All that despite her bottom becoming very red!
The other bonus is that green gingham dress, I chose that for her, she looks lovely in (and out) of it.
OTK, back to basics! Check out the latest FREE gallery below.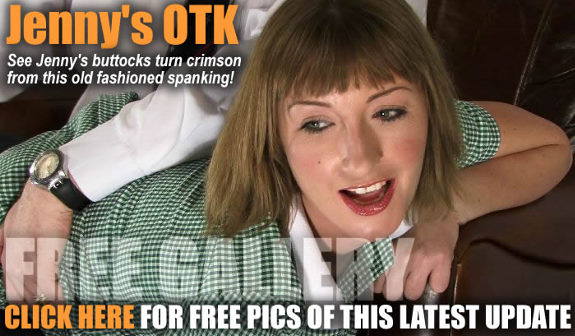 I'm sure you'll agree that Jenny's bottom turns a lovely shade of crimson, eh?
The New Movie in 1800kbs playback is now available to members HERE.
*************************
Now if you like Jenny (as I do) you will be happy to know that she is currently starring in a new update at SpankMyBottom
Better still, Elizabeth Simpson switches &, as we all know so well, she can be stern as hell!
See poor Jenny get another thrashing as she dares to sneak out to live at her boyfriend's place!
The poor girl is verbally humiliated & all her nice clothes & jeans are eventually removed as she is spanked hard!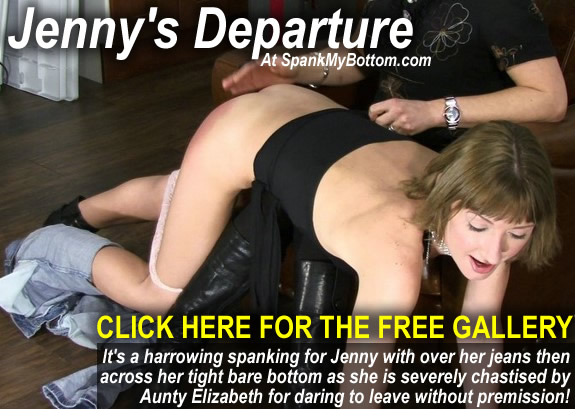 Check out the Home Page HERE as there are several Sample Movie Clips, I'm sure there's one of Jenny too!
*************************************
I was just rummaging through the Ezine archives of SpankingMags and replayed this cracking vid!
Starring Kirsten and Leia-Ann Woods (as Nurse Baylock) it's a rather humiliating inspection film.
After the intimate bottom inspection, Kirsten is thrashed and caned on the bench when Nurse isn't happy with what she discovered.
Check it out and some bonus pics below.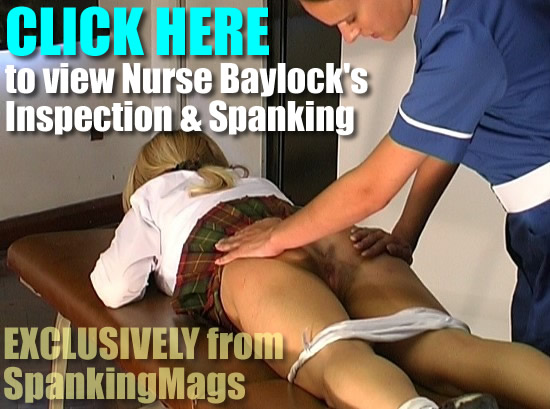 Bonus pics, click to enlarge
Remember that these Ezines are all in Hi Res playback, remastered and often contain extra galleries etc.
Visit SpankingMags to see more on how this site is updated.
Finally, on the humiliation and the shame aspect of punishments.
I couldn't resist showing you a few galleries of what I've been watching at Spanking & Shame
Check out the 4 Galleries below, if you liked the above inspection, you'll like these!  😀

Gallery 1  –  Gallery 2  –  Gallery 3  –  Gallery 4
OK, back soon, I have my usual Japanese schoolgirl updates coming up, can't wait to show you these!!!
Regards
Chief.