1st up is the very latest update from SpankingOnline.

This flagship site always has the latest updates and often features other girls coming soon etc so you get it all.
However, this Naked OTK bedroom punishment update features 2 brand new girls, Shay & Robin.
Welcome to SpankingOnline, girls!  😉
Check out the FULL size pics of the above poster below, these are the 1st time they've been released to date!
You can be darned sure that we will be seeing a lot more of these girls in future productions! 😀
Another FULL Movie update features one of my fave girls, Jodie, in school uniform!
Remember I brought you some advance news of this about 10 days ago? Well, check out the FREE Gallery
Jodie is just awesome as always when she is over a knee, pants down, her soft buttocks turning red!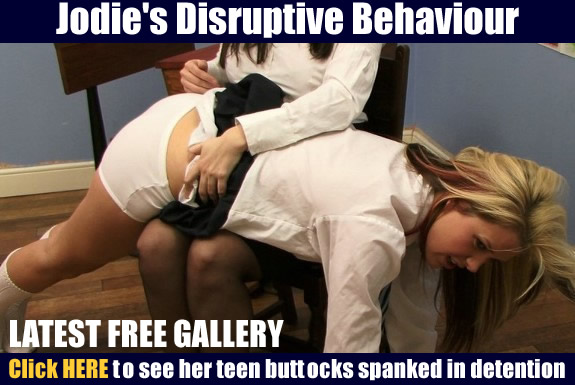 Cold shower alert on standby! She's just hot, isn't she? Easily one of my fave girls we've had recently…
If you're into schoolgirl punishments (who isn't?) check out all the latest updates HERE
******************
Finally, as I was rooting around the vaults of SpankingMags, I realised that this gem of a film had not been promoted!
Far from keeping it a secret, I thought I'd make it available for others to see!
Of course, it stars the lovely Catherine Corbet and this is a spanking movie with a difference.
Check out the title, yup, Catherine's lush bottom gets a taste of this cruel BDSM tool!
It's a classic old movie, thoughtfully remastered so it is in Hi Res wmv playback. Check it out.
Hope you enjoyed that! I have also been busy updating Spanking News Blog as well, so you have a double feast today!
Check out that blog if you're into FF punishments, I promise there's some good mucky girl/girl & harsh female discipline!
Regards
Chief.