Happy Valentine's Day, I'm sipping on some Champers at the mo as I write this. The missus is happy, I got some nice roses, what she doesn't know is that I've hidden the "Special" slipper! Mr Slipper will be out later – Happy Valentine, dear! LOL  😀
Well, I have a Special Valentine's Bonus as Simpson's site SpankMyBottom has been revamped! Brand new sample movies, both in Hi Res and glorious HD clips are available on the tour pages! These will change as the site is updated (minimum 3 times a week!)
To celebrate the great redesign, I have got together 40 marvellous pics that show what this site is about! Click on the image below of Elizabeth's Home Page cover and see what I mean!
Amazing FREE Gallery – CLICK HERE
I've said it before, but SpankMyBottom is vastly underated as it covers a vast archive of Simpson's fantastic spankings… and also Rosaleen Young's – what's more, all Rosaleen's stuff was EXCLUSIVELY produced for this site! OK, in the spirit of St Valentine, I have also included this update from Japan.
Yup, time for CutieSpankee, my fave Japanese site to showcase a valentine spanking special! Giving chocolates in Japan is popular on Valentine's Day – so imagine the shame and punishment below. Caught eating the sacred chocs, then punished hard, with classic snivelling!
Japanese girls do that so well, it's a real turn on, take a look at the Gallery and FREE Clip below.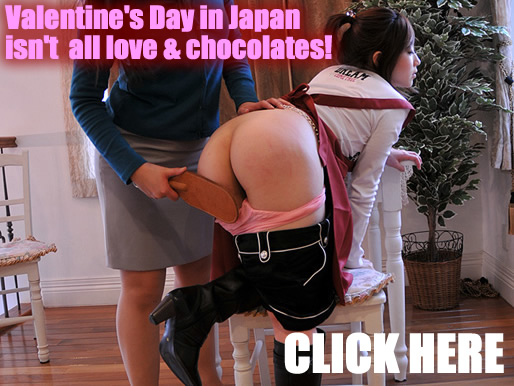 Bloody Hell! The way they cry and snivel, I love those Japanese girls! Check out MORE updates and FREE stuff at CutieSpankee – & decide for yourself!
OK, as I said yesterday, look out for some evil updates coming soon, I will of course advise and get in first! Until tommorow, be good and Happy Valentine's…
Regards, Chief.