An old fave spanking star of mine is the wonderful Victoria, I was viewing some of her stuff earlier.
Since I showed her caning Rosaleen in a recent update, I decided it was time you saw her bent and bared again!
Check out the FREE Gallery & the bonus pics below from this mad n bad spanking movie.
It's classic old skool humiliation and needless intrusive bathroom scenes!!!  😉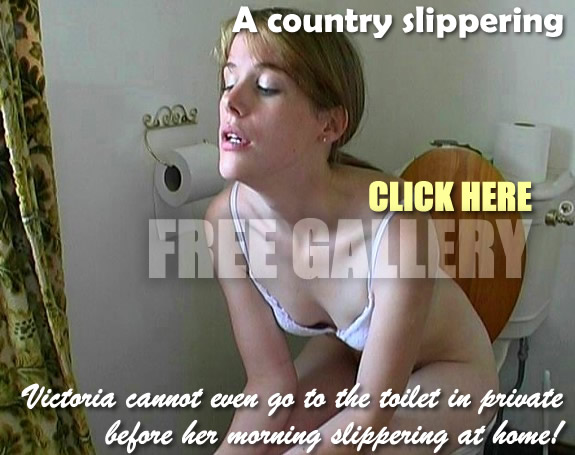 Watching the massive archive of movies at SpankingDigital is quite addictive – I had to reload the film below.
It was with me and one of my fave spanking models, Debbie, from the USA.
I really enjoyed having her teen chubby bared bottom over my knee!
There's a gallery of this movie below, she features in a lot of content we filmed in 2004!
In fact, much has also been remastered and placed at FetishFlixx, for example.
If any of you also like this girl, I'll dig out some more content that I can find 
Ah, memories! One of the nicest bottoms I ever had the pleasure of spanking!
Don't forget, if you're really into spanking movies, then SpankingDigital now has 100s of Full length films to download.
***********************************
Finally Elizabeth Simpson's true life accounts are show cased here at her site SpankMyBottom
This was a winner of a film as it has humour & some severe humiliation scenes.
Her cocky demeanour, smiles and laughter are replaced with total shame by the end!
How? Well she was disciplined in the Office for not paying her car tax whilst we all sniggered in the background.
I was actually trying to do some work uploading content & hearing the commotion next door put me off in what was at 1st a private film.
Eventually, there were about 7 of us goign in and out of the office doors and Elizabeth was praying and hoping we had no delivery men arrive.
Pity, as she would have had to stay there, hands on head, with anyone gawping at her reddened buttocks!
Seriously, in the UK, at least, you just don't forge to pay for your car tax, at worst, if caught you can lose your car as it gets crushed!
So take a look at the pics and clips below on this special Free Site presentation.
Now you'll understand her partner's seething anger! Enjoy!
Back tomorrow with more new updates, I think there's a cracker coming up from SpankingOnline, so stay tuned!
Regards
Chief.