I've got some interesting stuff for you this weekend!
First up is from the latest movie just released at Spankedschoolgirl.
It's called "Schoolgirls Bottoms" & stars Jodie & Tiffany punished in remedial class for Maths.
However, the real star in this movie is poor Tiffany & her oh so wobblesome buttocks!

As I said earlier this week, I was promised a severe slippering film and that is what I've got!
At first Jodie, already in trouble is given an OTK spanking, giving us all a chance to once again gaze at her teen bottom!
Then in private after Jodie is dismissed, Miss gets to grips with Tiffany in a nasty double punishment.
She is slippered, and the rubber soile really bites deep into her soft flesh!
I have cut a preview clip of the first part of her slippering – this is found absolutely nowhere else, so click below and be amazed!
Tell me that Tiffany couldn't feel that, eh? I have seen the whole movie (of course) & this is just the start!!!
More slippering, then a hard caning to finish off her swollen buttocks! It's easily my fave film at SSG for a while!  😉
EDIT: I have placed a great spanking clip of Tiffany at Spanking News Blog
Check out the bonus pics below (click on thumbnails) which are FULL SIZE
Lucky Members of Spankedschoolgirl can start to download the first parts to this movie NOW!
As I said, Tiffany took a right caning as well, nothing patty cake here this time!!! See the Bonus pic below
Elizabeth Simpson's site also has a bonus feature as it becomes more interactive.
Ever wanted to talk to Elizabeth? Well, she has just opened her own blog HERE
I only found out that it was going live this weekend so didn't mention it earlier.
Bookmark it here: SPANKMYBOTTOM BLOG
I spoke to her the other day and she has promised to answer all comments etc on her blog

As I already said before – Check out the NEW FREE movie samples…
These are updated as and when new movies are uploaded to the site, so worth visiting often.
Here's another little fave girl of mine, Katie Leigh and there's a FULL update.
Called "Daily Spanking", it shows Katie needing a spanking as it suggests, she doesn't care who gives it to her!
Both girls are delightfully attired in skimpy sexy clothing and I most heartedly approve!
This movie features FF OTK and Master gets involved too (lucky git!)
Check out the FREE Samples on her Home Page HERE
I have made available 4 bonus pics explaining what I mean about these girls looking HOT!
Maybe I should have placed a cold shower alert, first???  😀
Finally, here's a site I haven't mentioned in a while: Spanked Cutie
I was watching this movie earlier called "Addicted to sweets" (candy for you American readers!)

It's a cracking FF punishment movie and the way the blondie scoffed her sweets at first actually made me LOL!
The greedy pig gets her just "desserts" (oh dear) as she is caught scoffing them.
Check out the FREE Gallery below which you'll get an idea of the film from the vid grabs.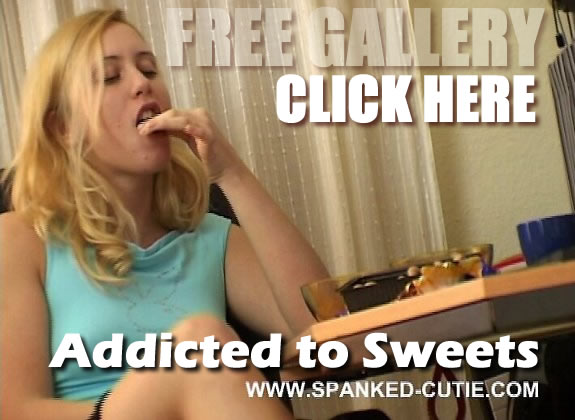 This is one of 100s of movies of course, and I have cut 2 clips below so you get the idea of what really happens!
I have really crap editing software for REAL Player, so bear with the start of the clips as often the first few seconds are blanked.
Click on the images below for these EXCLUSIVE Clips, I'm sure they aren't shown anywhere else!

Finally click on the thumbnails below for 2 of many FULL SIZE bonus pics available with this movie!
Spanked, Tawsed & Caned for pigging out! I hope she felt it was worth it!  😉
OK, that's it, I hope you all have a great weekend.
Back soon as always…
Regards, Chief.
PS. Want more FF spanking content? Check my other blog HERE  😀