Hi everyone, the weekend has come round so quickly again! One more and I'm off on my ski hols to Austria! Yay!
With that in mind I had better feed you some excellent stuff I have been viewing along with the latest updates.
From SpankMyBottom – Elizabeth is back at school and you can guess her bottom is gonna pay!
The ltest movie to be just released is called "Schoolgirl Distress" and I have managed to get some early shots.
Take a look below and you'll see for yourself.
Don't forget her HOMEPAGE also shows the latest movie samples. 
Elizabeth plays this role oh so well, don't you think???
Also don't forget to check out her new blog where you can talk to her directly.
She has also posted brand new pics of a movie which is yet to be released, like this shot below.
OK, onto another naughty girl I like and was viewing late last night, Joanna Pritchart!
There's something about this bad bad girl that wished I had her all to myself to spank and play upon!
This is the latest Ezine update at SpankingMags, it'll feature extra HQ pics with the remastered film.
The FULL movie is out now, check this special clip I made available, exclusively here!  😀
heh heh – hearing her plead like that is just part of her attraction!
Now I'm warming up as I feature the adorable Samantha Woodley!
She features strongly again in this Firm hand Spanking update!
I am fast becoming a real fan of hers, I love the accent, a gorgeous girl – & when spanked struggles beautifully!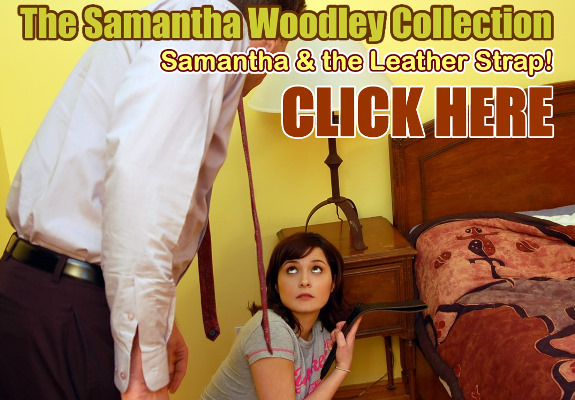 Also check out the bonus full size pics of the simply gorgeous Samantha below! What a doll!



See her very latest update out this weekend at FirmHandSpanking.com
I checked over some archives at SpankingDigital and can not believe I never showed you Lianna!
I'm sure I jhave but as I featured Joanna, this was one filmed in which she switched!
It was poor Lianna's second spanking film, fresh from Gujarrat in India, I think she's back there now.
Check out these private punishment jpegs from the Movie in her grim dormatory!
Glorious brown buttocks that you can see turning red, I'm sure you will agree!
SpankingDigital now has over 185 FULL Play spanking movies, god knows how many Gigs that is!
I'm sure you'd need a seperate hard drive to save all that spanking filth!!  😉
OK, have a good one, I'm off to visit my elderly mother for the weekend & make sure she's OK.
Regards, Chief.