Isis worked for the Xerotics Group of sites a lot during 2005 and 2006 and produced some fantastic punishment and discipline films! A particularly striking & good looking girl, she was only just 19 when they started filming her.
Following a few public and a few private mails, I have decided to showcase and profile some of her finest work filmed! You'll also know where to find some of her best stuff!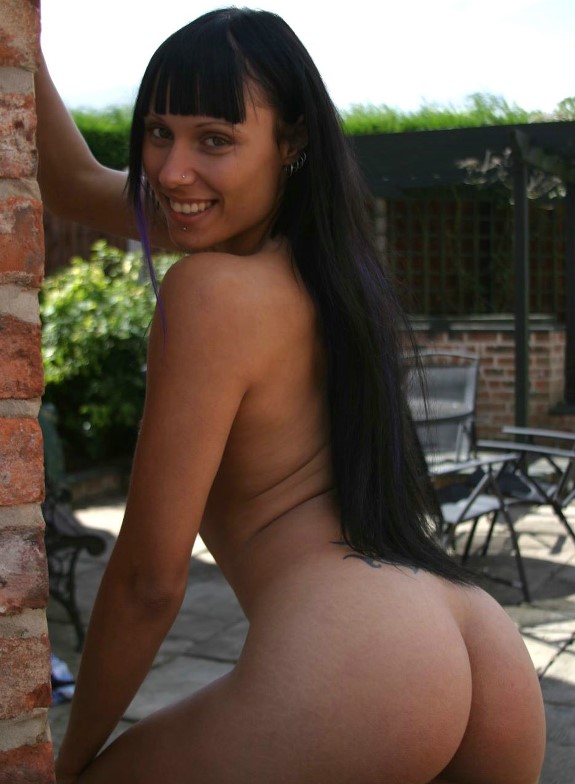 Much of this has NEVER been shown to non members before today, so sit down and take time to view a breath-taking spanking beauty. I promise you she looks good in her lovely tarty and skimpy costumes she chose herself to a proper pristine school uniform, especially when her knickers were pulled down for a strapping or caning! So relax, pour yourself a brandy, light a cigar and peruse some NEW Galleries and Special bonus movie clips never shown before for free!
The way this girl moans when she is punished either intentionally or unintentionally is sexual in the extreme. I am sure you will enjoy today's latest extensive Galleries. All content was taken mainly from the 4 site SpankPass or SpankedSchoolgirl for convenience.
OK, now that I have your attention with Isis bent over, arse bared in her school uniform, take a look below at some of her work!
The SpankPass is where you will find most of young Isis so I shall start here. Isis enjoyed working with a variety of Doms, she was a true submissive, and more than once admitted that a good hard spanking made her pussy tingle with excitement! Much to our delight, check out her facial reactions on some of these punishments, she was enjoying them! This is where we also discovered her extraordinary limits as her wonderful bottom could take quite a slippering and strapping and still have time for an obvious welting caning!
Check out one of her last FF movies which she co starred with Sabrina and of course Miss Smith. The girls are in the charge of Miss Smith and she is horrified to find out they've been out all night drinking! Their hangovers, ill manners and stroppy attitude are soon sorted when she chastises them physically and verbally!
More FF Punishment is featured with Miss Smith (again) in "Holiday Rep"
You can really imagine the sunny dippy disposition of Isis as a holiday Rep. Sadly for her, she's mucked up the arrangements of departing guests so is punished by an embarrassed Miss Smith! Lovers of those seeing Miss Smith get a spanking and more will like this movie too as the boss has a go at her later! All in all, a great film, I want to go on holiday already!! 😉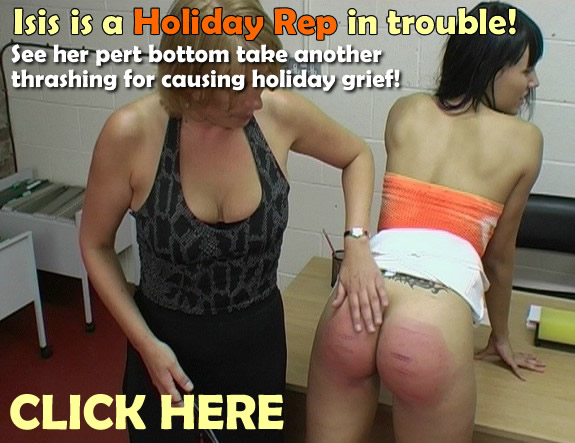 Want to see a FREE Movie Clip? CLICK HERE
Isis always looked at home in a club environment, this was one of her earliest films and it contains a great OTK and strapping scene. She plays a foolish thieving barmaid caught out by the boss, no prizes for guessing what he wants to do! Lucky fella!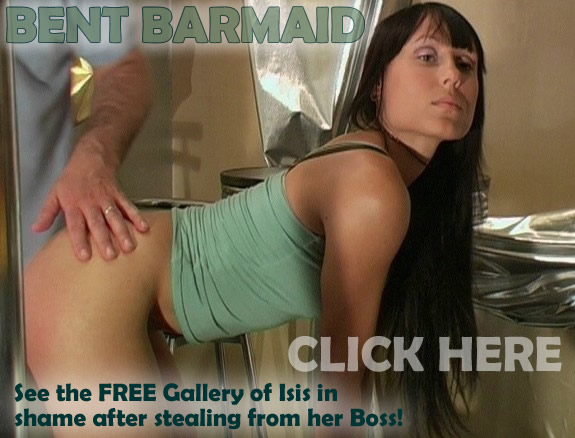 FREE Bonus Movie Clip – CLICK HERE to see Isis bent over her boss' knee!
The first multi girl punishment themed movie featured is with Ashleigh and Miss Smith! It's a fast paced movie and you don't know who's gonna get punished next!!! The title of the movie is entitled "Miss Smith's reckoning" as it was her FIRST spanking we filmed! Miss Smith chastises and punishes both girls but she is in turn punished pants down in front of these shame faced wretches for not having more control over them in the first place!
Enough waffle, I'll let the 16 FREE pics below help do the talking!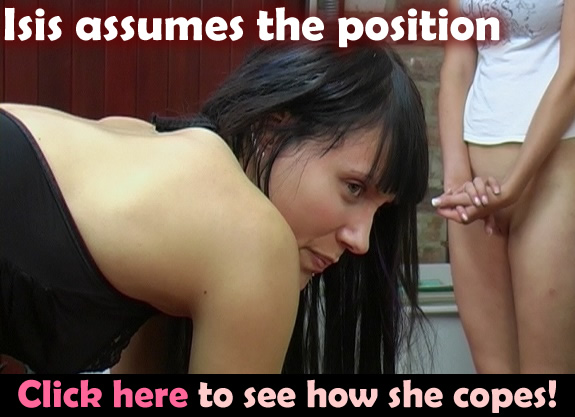 Yes! Another never before seen FREE Movie Clip of this Film – CLICK HERE
I mentioned that Isis was only 19? She brought her old authentic school uniform and of course the director & film crew were all in awe! Imagine Isis stood up in her dishevelled uniform, doing corner time, knickers around her ankles, hands on head with her welted cheeks burning red!
Well imagine no more as we discover a side to Isis that she adored, playing naughty schoolgirls and getting severely punished for it! The first Gallery below shows her having a Bad Bank Holiday, what a way to spend detention, caned and genuinely snivelling. This submissive beauty loved and identified with the role completely!
CLICK HERE to view this FREE Movie Clip
Isis also had an alias used from time to time, schoolgirl "Tara Johnson", in this alter ego, she starred mainly at SpankedSchoolGirl
One of her memorable Film roles was as this stroppy teen in a 1970s style production with Miss Baker! A grim place on the top floor, the punishment room, where all girls feared. Here we see Tara Johson's attitude readjusted in this excellent FF Discipline film! I may be wrong, but this might have been the very first film that Isis starred in.
Check out the Gallery below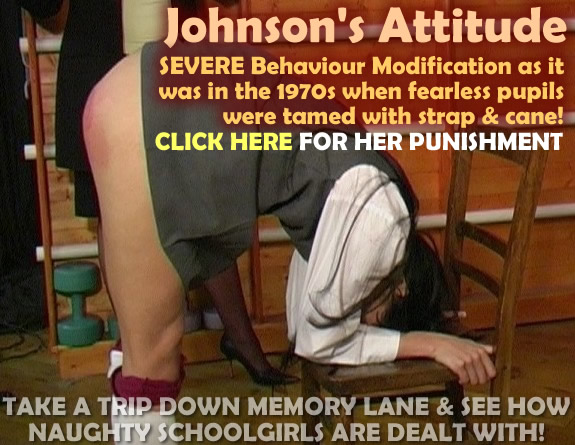 The most memorable film for me with Isis was again as Tara in this wonderful detention test! The old school desk and "Tara" contorted over it is a joy to behold! I will also tell you that this was a damned hard caning that she took, and check out those regulation school knickers!
By now you will see why she is such a star! That perfect rounded bottom, taking a ferocious punishment! I'm not a massive fan of girls with tattoos, as you know, generally, but even her naughty tatts are feminine and compliment her nature! Sadly Isis is no longer an active online spanking star, but from some of the content I have shown you today, you can see why she was so popular and is still one of the most requested models to date!
My last NEW unseen (I think) update features Isis as a schoolgirl in trouble again, with Ashleigh and Miss Smith!
This film was called "School in Disarray" – I remember it well, everyone had a right hoot filming it, it had a lot of punishment action of all females again. (Ashleigh, Isis and even Miss Smith with her knickers down). There was a surprise appearance from Mr Peters (now Area Inspector for Corporal Punishment – who retired from teaching due to stress and ill health as I recall). He was a keen observer of HeadMaster in full control of his pupils and staff!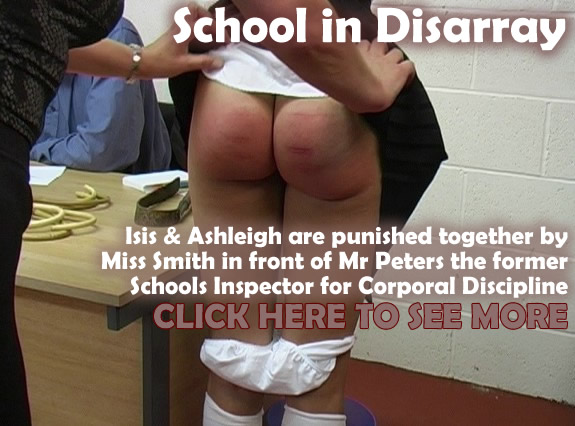 In conclusion, those who have never heard of this English beauty, I hope you are now of the opinion that it's worth watching her films. All her movies were filmed in WMV, so all movie playbacks, like the clips you saw can be viewed in full screen. Some have even been since REMASTERED! If I was to choose a membership to upload as much of her content as possible, I'd definitely choose the SpankPass and take advantage of their consistently LOW pricing for 3 or 6 month deals, as I'd also want to download far more than just the luscious Isis, and SpankPass has 100s of Gigs of data to do so!
However, as I have also featured, Isis (aka Tara) she makes a beautiful schoolgirl and you can see some cracking full play movies exclusive to Spankedschoolgirl as well! or download the movie as a cheap one off payment at NaughtyBottom.com
I havent shown you any movies of her stripped strapped and caned or playing with a vibro today…these are also some delights you can see for yourself as a member!
Regards. Chief.