I have some interesting stuff which I've been viewing today and also some great stuff sent to me for review! First up is the New High Definition (or High Res – you choose the quality you want to download) Schoolgirl Movie. Out now as the lastest addition at NaughtyBottom.com – the newly popular PPV movie site.
This movie below is called "A Schoolgirl's Bottom" and stars Jodie and Tiffany. Stern Headmistress Miss Jessica takes no prisoners in this detention drama. Jodie's offence is less punishable but she doesn't get off lightly as she's given a red bottom OTK in front of Tiffany.
However, it is poor Tiff's wobblesome buttocks which get a darned good slippering and caning which makes this movie! Check out the Caning Clip below, Tiffany's bum is already sore from her slippering so you'll know this smarts!
I know I'm spoiling you, so SEE THE FREE GALLERY HERE
I promise you the FULL movie is well worth viewing! This movie and the others including the package deals are here at NaughtyBottom
Someone mention the Slipper? (my fave implement as many of you will know by now!)
At SpankedSchoolgirl, the latest update to Sara's Chastisement is now out! All parts are now available so you get to see stern Headmaster's evilslippering of the prone Sara. Check out the FREE Movie clip below so you get a taste of what happens.
I rate Sara very highly and I know we have a lot more content of her appearing soon, this movie is just the start!SpankedSchoolgirl does "exactly what it says on the tin" – Spanks and chastises School Girls!  😉
Finally, thanks to Greg at BunBeatingFun for making me aware of his latest update HERE
The latest unfortunate "model" is Brandi, a real brat of a girl. You just know the moment she starts to bitch she's in deep trouble.
Greg's relentless OTK spanking on her red cheeks is a delight to behold. Check out the FREE Gallery and Promo Clip below – you'll see what I mean!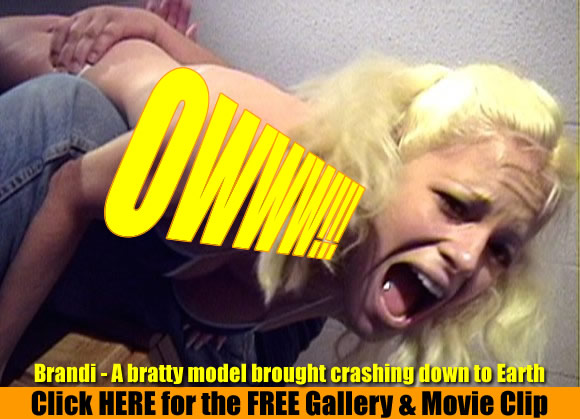 Brandi is just one of a variety of girls dealt with severely at New Jersey's "finest" Motels. Plenty more brats and madams get what's coming to them at Bun Beating Fun
OK, back soon, gotta rush, the Euro Football Semi Final Championship is on the telly (soccer for you Americans)
Come on Man Utd – do it for England. Do Barca!!
Regards, Chief.