Well, SpankedSchoolgirl have done it again with this fantastic NEW Movie!
Poor Zoe Montana faces a humiliating time during her detention as she waits for Headmaster in just her knickers.
However, matron has already informed Headmaster that there is evidence in her panties to suggest filthy self defilement!
With a movie title "Schoolgirl's Soiled Knickers" – what would one expect?
I shan't go into too much detail, the captions and the pics and free movie clip can fill you in on the rest!
All I will say is that I've seen the whole movie and Zoe's reactions are sublime!
Real pain, the look of humiliation and her wobbling cheeks thrashed hard!
The final scenes of the film contain some great heavy caning leaving some obvious welts.
As Humiliation and Schoolgirl Shame/Punishments go in "Detention", this really is right up there!!!
The film gets the 5 star thumbs up from the Chief!
Check out the FREE gallery below.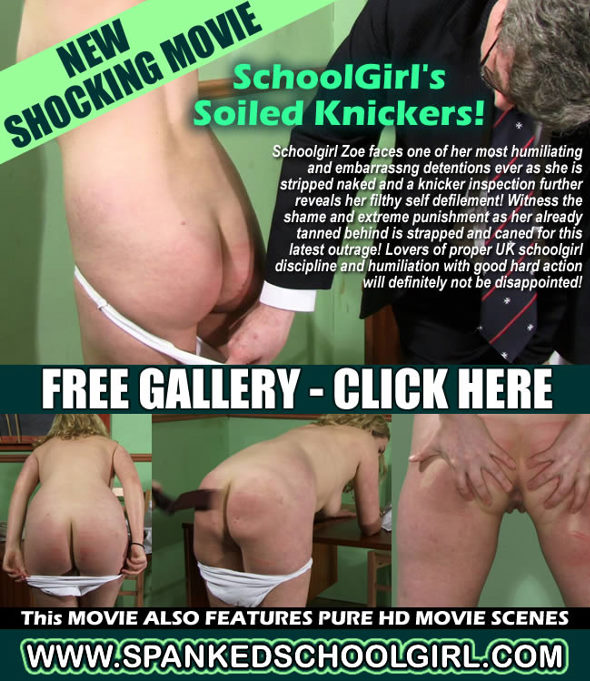 This Movie also has some considerable pure HD Movie bonus scenes so you'll get to see even more clearly what's going on!
However, for now, check out the Hi Res Movie scene below of Zoe strapped over the table.
See her almost buckle under the strain of it all! Click on image below.
More of this great movie is now available to MEMBERS
It's good to see Spankedschoolgirl getting back to humiliating basics.
This will rank alongside one of my faves starring Catherine Corbett with her Dirty Knickers issue
She was chastised by a disgusted Miss Smith as I remember well!
Mucky punishments & the madness of these girls – happy days!  😀
I'll be back here sometime this weekend, so have a good one til then!
Regards
Chief.