I have been putting together some cracking new updates across a variety of networks today for your viewing pleasure. As always, any comments about any films shown are always welcome, or if there is something you wish me to look up foryou, then leave a comment, we humble bloggers always like to receive feedback, then we know we're not just writing to ourselves insanely! 😀
OK, so the first few updates are brand new and, I gotta say they are rather good! Following on from the Nurses theme of Sasha Harvey the other day, check out these 2 cheeky ladies in their lovely uniforms getting thrashed by the pervy Doc after their shifts are finished. From SpankingMags, this is a Special Ezine update as it features the 1st 2000+kbs wmv playback movie there (2128 to be precise). It's an old movie and has been lovingly restored to Full Screen playback glory to the best quality possible from the cameras used over 5 years ago. You wouldn't think so when at the time, the sort of quality that was standard on the internet in 2002-2003 was a mind blurringly 3-400kbs playback or so (yuk).
There's some great sustained spanking and paddling scenes in this movie as both girls complain and whine as they are mercilessly disciplined, you can almost imagine the Doc getting off over his extra curricular activities! Lucky fella! This Ezine now available at Spankingmags
Heather Stanton stars in a brand new movie at SpankingDigital.com not seen before and it's a crazy title and a rather odd movie – called "Biblical Thrashings" – it's a masterclass of verbal and physical humiliation as the very cocky Heather is shown her place by a rather peeved Miss Smith. The disrepect for the Bible loaned to the company as a prop is Heather's undoing as she is strapped and tawsed, and I can tell you this breaks her spirits, the smile's gone, the cockiness replaced with eyes welling with tears and full of remorse! Seriously, a cracking film, don't believe me? See the Free Gallery and Movie Clip below.

Liked the pics? Then see the FREE Movie CLIP below.
Warning, contains strong language as the stinging tawse cracks into Heather's buttocks!
CLICK HERE FOR THE FREE MOVIE CLIP!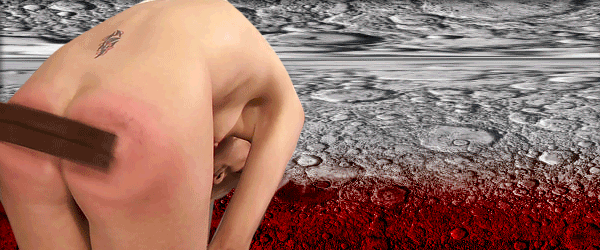 *********************************************
Next up is the latest update from the good people of BunBeatingFun.com – the specialists in enticing stroppy young models to various "fine" (or is that sleazy?) motels in the New Jersey area! Greg, or as he is affectionately called "TMS" (the Mystery Spanker, lol) gets to grips with a real brat of a porno model this time, called Aaralyn, of Russian descent, it's good to see her getting what we all know will happen, a damned hard and sustained spanking as she hollers and snivels for it to stop! See the FREE Gallery below with an intro clip and you'll know it's all good stuff!
It's a great site and always makes me laugh seeing these real up themself brats get a right seeing to! Bravo Greg! Keep up the good work!!! More movie intro clips and the tours can be viewed at the banner below
This got me thinking about motels, sleaze, and then I saw that Clare Fonda has revamped and renamed her fabled Kara site which is now the intriguing "Spanked Callgirls"
SpankedCallGirls.com – check out the link, this update below stars the wonderful Clare herself getting a damned nice spanking off the amazonian Beverly Bacci, ye-ouch!
See the larger thumbs below
What a sight! Tell me you wouldn't want to be stuck between these 2 – what a horny spanking situation (uh oh, cold shower time already?)
View more of SpankedCallGirls HERE – or as part of the value Clare Fonda Multi Site package HERE
Finally, I decided to run the cold shower…why, cos the last update is the delectable Amber. This is one girl I simply adore, I love the way she gets spanked, her naughty behaviour, the way she invites trouble on herself by her "Daddy" and of course I just love the way she casually mentions when she plays with her "pussykat" – oh boy….See this ASS-tastic latest update from SpankAmber below.
Warning: will cause arousal in the trouser dept!

Check out more of Amber at her site HERE – mm mmm!
Those who have missed my Japanese girlies, don't worry, I'll be showing more of them as usual very soon!
In the meantime, let me know what you think of these strange pics I have had on my laptop for quite a while, sorry I can't find where they were from, I just greedily downloaded them. I'd love to know if I could get these as full screen prints. Any ideas, folks?
Click on the image below for the others:
Back soon
I'm off for a walk outside to cool down, it's horrible and wintry here with freezing rain, that should do it.
Chief