OK, before I start, here is one annoying woman I'd love to have over my knee! Not sure if my American readers will recognise her, but she used to be in a Girly Pop Group called "Atomic Kitten" years ago and her life tends to fall apart ever since she left. Her most recent "car crash" moment on a breakfast TV programme where she slurred her words and made a fool of herself was compulsive viewing. You can check it out on You tube somewhere if needed. Was it Medication as she suggested? Booze? Who knows, she's been in rehab before, this is a poor man's Britney, but I'd love to get this fool over my knee and instill some much needed Chief's discipline on her!
She actually scrubs up rather well when she needs to (as above at the recent Europe MTV awards) – however, don't confuse her being in the all girl band "Girls Aloud" – Now I'd just love to do dirty things to them instead…oh boy!!! heh heh heh 😀
OK, so onto my updates and spanking news views and exclusives today.
I haven't checked NaughtyBottom.com at the time of writing, but I know that this update is imminent and is a fantastic remaster of an old classic which was only ever available in a poorer old RM format of about 360kbs playback which hasn't done this justice from years back.


"Dormitory Discipline" – 4 unfortunate girls, including Kara Jayne, Dublin O'Brien and a girl I know just as "Lloyd" (famed from Lloyd's Slippering) anyway, it's a very good old fashioned and nasty punishment, these girls are made to suffer a most humiliating punishment, take a look at the FREE Gallery below, then check out the FREE caning clip featured below that of Lloyd (mmm)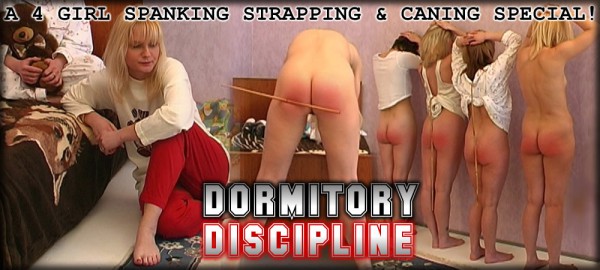 OK, So you've seen some pics from this movie
Check out the New FREE MOVIE CLIP HERE
SpankingMags.com has an amazing new update just released, it's hard to determine which I prefer more, either "Uncle Canes Hard" from above or this long play movie starring Rosaleen Young and Kirsten Gould. For those who really get off on seeing a genuine brat and a mad bird like Kirsten getting thrashed, I assure you this movie is a winner!!!! SpankingMags has recently managed to get some cracking updates and it's one of the cheapest of the Xerotics group of sites to subscribe to. ALL their movies and Ezines are Hi Resolution playback from Day One, often with additional footage and pics not seen elsewhere on the Network. So feast your eyes on this fantastic Free Gallery below – click on the image to get the free gallery and get an idea of what this film is about!
It's a case of Thief Rosaleen getting caught out by Headmistress and Miss Gould her Form teacher. Apart from Rosaleen's brilliant bratty episodes, we then have the added bonus of the tables turned on Miss Gould, found to be cavorting with one of her colleagues which Headmistress strictly forbade – cue Kirten's lovely bare bottom getting a roasting and the Finale, oh boy…both girls thrashed thrashed and THRASHED some more – 30 minutes of hard hitting FF Heaven!
CHECK OUT THE FREE CANING CLIP OF ROSALEEN BELOW!
Below are some movies I watched yesterday, again, and was so impressed I decided to have some galleries etc made to promote them.
First up is the wonderful Sara Bergmann in her last film shoot with us, looking, I might add, very slinky and sexy with those long toned legs, bent over and getting a rather hard caning and strapping at the end of a long day's filming! I gotta say, the site of Sara's pert buttocks, bent over like that was quite an alluring sight, of course I've had the "pleasure" of having Sara over my knee, and can tell you that she's so much better in the flesh – so to speak…I hope if she's reading this she takes it as it was meant, a real compliment! 😀
Check out this gallery below and see for yourself, this movie is of course out in FULL at SpankingDigital to download.
I often have people requesting that I show more mature ladies getting spanked, to be honest, it isn't always my thing (I mean ladies in their 50s etc) and there are plenty of other blogs or websites that will cater for that: However, one lady who could be considered mature (but definitely NOT in her 50s – God, she'll kill me next time if I accused her of that – and she isn't!) is the fab Miss Smith. Every now and then she enjoys getting a thrashing herself. Thank God she decided to switch on my shift, this is one Dame that shows these younger girls how to take a proper thrashing, and it's quite a sight! This below movie scene was from one of my fave movies "Drunk Nurse", also starring Sasha Harvey, another lady who can teach these teens a thing or 2 in how to take a proper dose of the strap or cane! Check out Miss Smith's vid clip below: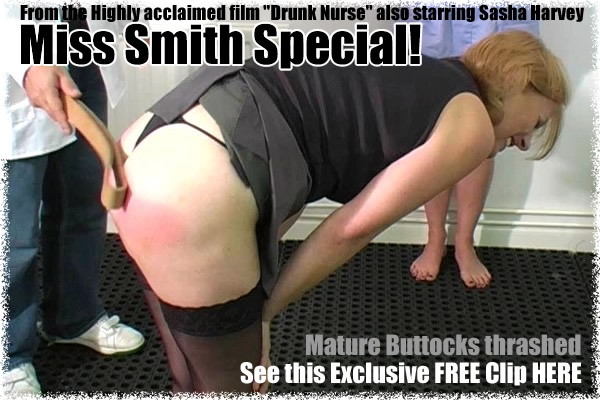 OK, before I go, wanna know what else I have been viewing? First up is the ever improving English Spankers – I know it's not everyone's cuppa tea (Guv), but they have been employing some better models and although I don't know the guy who runs the site personally, it's like a flashback to some of the stuff we do as I see the same locations we chose, the same models, Doms etc. One such model who I have a lot of time for is Pandora Blake featured below.
if ever you see her on film, you know that she'll take a genuine thrashing, she'll act her pop socks off and give 100% as that is her nature. It comes across, she's a professional girl, and also happens to possess a pair of the most mesmerising globes in the "business". Here we see a scene with Master Cameron, I'm guessing this was filmed a while back as I believe they may no longer be together (happy to be corrected and edit this post if it's otherwise)

Also take a look at free images I cut from this movie, exclusively available here at SpankingBlogg and nowhere else

Finally…this little winner below from Real Life Spankings!
East Euro girl Simpa gets a sound wooden paddling for biting her nails.

This is the spanking of a lifetime for naughty girl Simpa, her perky little bare ass feels the stinging thud of wood from a really big horrible paddle! Check out the FREE pics I've got from this film below.

The paddling leaves her bare bottom really red and so so sore as you'll see below

The webmaster of Real Life Spankings adds: Simpa has a nervous habit mainly she bites her nails. To cure her of that disgusting habit, I decided to give her 18 strokes with my wooden paddle 'the Board of Education'. Before I paddled her, she had to spend 30 minutes in the corner holding the paddle against her bottom and think how it would feel.
It's a known fact that European girls who are not used to the hard wooden American paddle left some nice marks and you will see real tears flowing down her cheeks when she was sent to the corner again. You get to see the FULL Movie of Simpa here at Real Life Spankings
Just to let you folks know, I will be offline for a few days without an internet connection, I will be visiting friends in Spain near the Pyrenees (close to Barcelona). However, this is why I made this big update for you all today. I'll be back here on Tuesday next week. To those who rarely visit my blog links or gallery links, take a look, there's a lot of good stuff "out there" – but be sure to come back here soon, I'll let you know how my visit to the mountains went! 😉
Regards
Chief.