Hope you all had a good weekend, there's a film shoot taking place as I type this so I will bring you up to date news of this tommorow!
My home news: I had a massive barny with the missus Saturday night and only now are we speaking to each other again. The stupid cow got drunk when we went out to our local vilage Christmas party – there was barn dancing (or Line dancing afterwards) and she got horribly drunk on white wine and made a fool of herself so I calmly waited until we got back and slippered the hell out of her when she got aggressive!
It was a classic old fashioned domestic punishment, nothing sexual whatsoever, I was just plain angry – she just apologised to me just now it's been simmering all weekend since the Slipper Incident! Now I'm not one to hold grudges, so apology accepted and we move on, take a look at some inspiration I had derived and some very cute brats I'd love to have over my knee too! 😀
Check out bad wife Alex below, caned for trying to sneak out with friends whilst Hubby was away, he got home early, much to her bottom's dismay!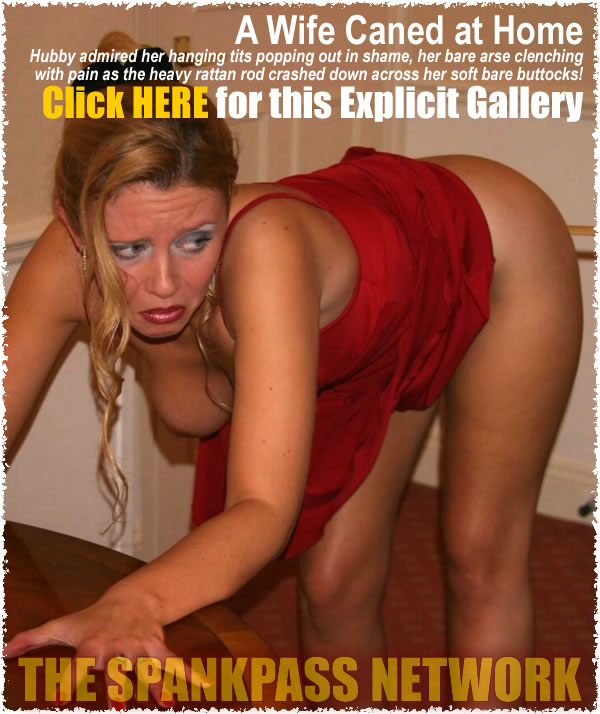 Lovely, eh? Check out these fantastic free galleries and Movie clips from the same Network below
What you might also enjoy is Sara Bergmann's uneasy punishment in the privacy of her Uncle's cellar, cold, quiet, isolated and a horrible forboding place to be with your pants down bent over the cold stone slab, only her uniform above protecting what modesty was left! Enjoy the free caning clip below – the whole movie is a very satisfying & very realistic punishment film in Hi Res playback from SPANKINGONLINE
********************************************
Here's a quick check at some gorgeous brats at some other sites I am a member of.
Check out this gorgeous thing – I love those stockings, in fact I love the whole outfit, and could well imagine myself having some form of trouser re arrangement problems "down there" if I was the lucky spanker like Peter here…
**********************************************
Finally from Firm Hand Spanking the one and only Samantha Woodley – who certainly gives me "wood" watching her bratty punishments. Check out this college paddling scene below, yes I'm teasing you here, but you can see the FULL punishment at the site below:
Samantha Woodley knows how tough Brat Camp has been for her buddy Chloe Elise. But she never expected to be on the receiving end of a paddling herself, from the head coach. Ten swats on her tight jeans could wake the street, as coach grabs her waistband and hitches those jeans up even more snugly round the glorious globes of her behind.