OK, have a I got a cracker of a girl and update for you today!
It's so new that the cover isn't up at SpankedSchoolgirl at the time of writing, but the movie is for members! 😀
It's a fantastic NEW Girl called Justine (oh no, not another Justine, what is it with you ladies and your Justines Jodies and Jasmines,eh?) ALL gorgeous spanking models seem to start with "J" So here we are, new brunette girl Justine and what I have for you below is a template of the cover which I added to slightly, wonder if you can spot my "woodage?" I have included a free clip which will be available on the front cover and all affiliate galleries, so once again, dear readers, YOU GET IT FIRST HERE!!!! Don't forget that!
NOW SEE WHY I GOT SO DAMNED TURNED ON WATCHING THE WHOLE MOVIE!
Even the way this girl rubs her warmed cheeks, her gorgeous pert butt and minnie, her looks, the way she moves and cries as she's spanked, she has the whole package I'm sure you will agree and this movie will also be available EXCLUSIVE to SPANKEDSCHOOLGIRL in FULL HD!
CLICK HERE FOR THE FREE SAMPLE CLIP!
OK, continuing the schoolgirl theme, there is a NEW Movie, a chance for those to "pay per view" at a very reasonable cost an HD classic called PREFECT. This is now out and available as HD with the optional SD format as standard (download them both, view the SD one first while the HD version downloads and then you've got both to keep and add to your collection)

They listened, you got it, and so this is the next movie available as a one off download with no rebills of course (it's pay per view, download and keep it etc) – PREFECT is a great movie with 2 gorgeous girls whose bare bottoms taste Headmaster's slipper! What more could you wish for? Check out the special FREE page Presentation below and acquaint yourselves with these 2 girls, Alexandria and Paige.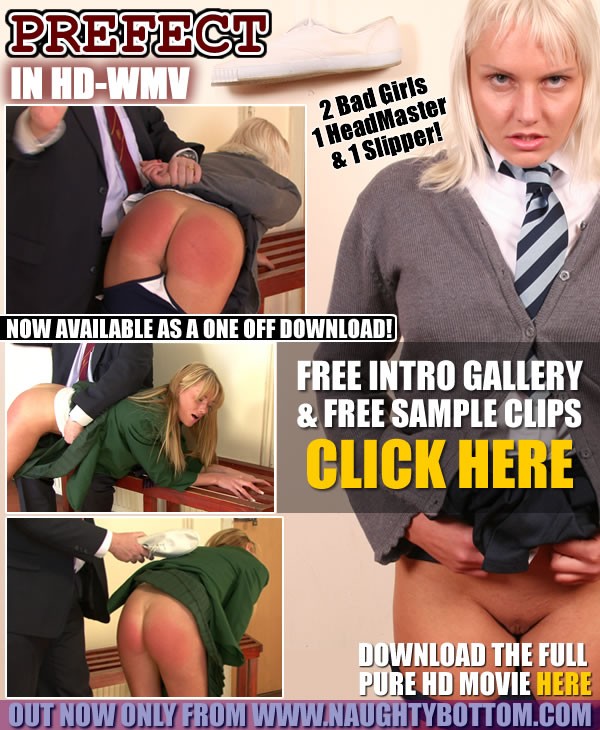 Check out NAUGHTYBOTTOM's FULL list of PPV movies HERE
OK, I will edit my post once I have the free site gallery ready for "JUSTINE IN TROUBLE" so you get to see some vid grabs as well as the free clip! So don't go too far…laters. Chief.