Check out some of my fave stuff which I was watching again recently. Some of you may have seen this before, however I have also added new stuff to keep you folk interested in our kink. Enjoy!

First, I got a couple of clips for you from BunBeatingFun.com
The first is a very old movie, when I mentioned it to Greg, the site owner, he told me it was made over 12 years ago! All I can say is I'm glad I got to see Monica, a very horny, very bratty model who gets the BBF treatment! Greg, you lucky man! She reminds me of an old girlfriend who behaved just like her!  😉

Click on this special REAL Media Clip below that I cut earlier and you'll understand!
CLICK HERE TO SEE MONICA's Punishment!
Now that was an oldie, & I'm sorry if it was a bit of a tease, but I wanna keep herself to me and Greg's members! All I will say is Monica is HOT and her squirming under a sustained spanking for 15 minutes was a joy! Now below is one of my faves from this site! A great model called Sasha Sparks! Seems she's heard about Greg and his trademark ear pulls and no nonsense humiliating OTKs!
Click on the this link for the latest WMV promo clip HERE
I have made some pics available from this latest movie update.
The bratty model, the impending feet of Greg who catches her and places her across his knee!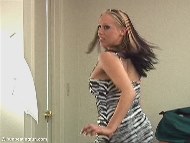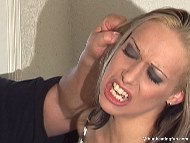 We are also treated with a rare paddling scene, such was the need to sort out this young lady!
Check out the more recent updates and sample clips from BunBeatingFun – CLICK HERE
Next up, I watched this amazing vid of Samantha Woodley again and, boy, is this girl just HOT! She's is featured as a latest update so believe you me there's tons of Sam content at FirmhandSpanking, but check out this below and see what got me flustered! I am fast becoming a real fan of hers, I love the accent, a gorgeous girl – & when spanked struggles beautifully!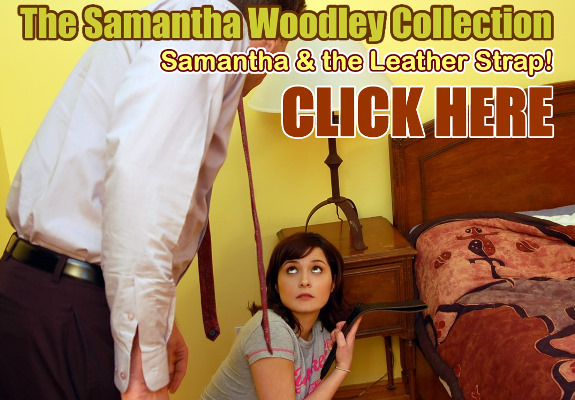 Also check out the bonus full size pics of the simply gorgeous Samantha below! What a doll!
Also see her very latest updates OUT NOW at FirmHandSpanking.com
************************************************
Now this morning I decided to view this great movie with the very naughty spanking model, Victoria. Sadly now retired, but luckily for us all, she did a lot of film work with us and the below is simply one of her more memorable movies!
Thanks to SpankingMags, it was one of their first Ezines remastering this movie. She really hated that slipper and it shows as the rubber started to bite into her cheeks!
Check out the FREE Movie clip below from this Ezine.

Some of you might have seen these before, however, SpankingBlogg readers get more of course!
Check out the ADDITIONAL FREE MOVIE CLIP exclusively here for FREE
I wanted you to see her facial reaction and obvious disdain for the slipper!
Also check out the bonus images below which are part of an extra Ezine set.

(Excuse me whilst I run that cold shower!!!!)
************************************************
Now what do you do with greedy pigs??? Well, at Spanked Cutie they have the answer and I laughed out loud when I watched this film again! It's called "Addicted to sweets" (candy for you American readers, of course!)

It's a cracking FF punishment movie and the way the blondie scoffed her sweets at first actually made me LOL as it remnded me of my poor behaviour at Christmas, scoffing the chocs etc!!! However, this greedy little pig gets her just "desserts" (oh dear) as she is caught scoffing them. Check out the FREE Gallery below which you'll get an idea of the film from the vid grabs.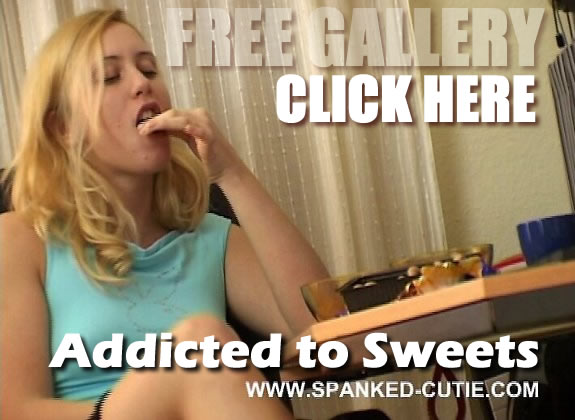 This is one of 100s of movies of course, and I have cut 2 clips below so you get the idea of what really happens! I STILL have really crap editing software for REAL Player, so bear with the start of the clips as often the first few seconds are blanked. Click on the images below for these EXCLUSIVE Clips – Enjoy!!

Finally click on the thumbnails below for 2 of many FULL SIZE bonus pics available with this movie!
Spanked, Tawsed & Caned for pigging out! I hope she felt it was worth it! I did, LOL 😉
Now….anyone like uniforms? I love seeing gils in uniforms, any uniform getting spanked, with their bare arses showing, slowly turning red, that really gets me going! Well, hopefully, you'll enjoy this fabulous gallery c/o SpankingServer.com
Click on the image below for this amazing gallery set I had made exclusively for this blog.

Obviously, there are MORE free galleries and content/updates at this site – CLICK HERE for more of this
One of my fave girls Heather Stanton features in some great films at at HDSpank – This is one of the cracking spanking movie specialist sites that only features pure HD movies like no other spanking site STILL!! & at the end of the day, when you want quality playback, this site knocks every other for 6 – and when it's Heather Stanton in crystal clear HD playback, hang on, get that cold shower ready and enjoy the humiliating punishments!
Check out the FREE Picture Gallery below of Heather in her film "Need it Hard! She goes through a test of various punishments:
Spanking, Strapping and Caning. You get to see some great close up shots of her reddened globes – awesome! Check out the first FREE Gallery below.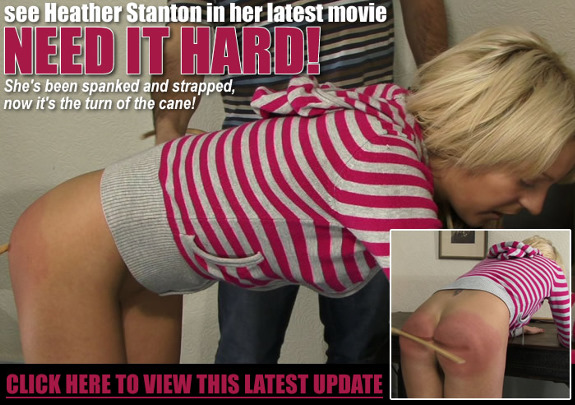 OK, I will be back later, I just wanted to get this bumper update out to you and will feature some brand new stuff later, don't go too far now 😉 Chief.