Lucky you! I am travelling tommorow so decided to update the blog this evening with some amazing stuff to keep you all occupied, keen, amazed and coming back for more! There are some cracking updates here and some fave girls of mine currently being punished far and wide!

First up, I'll start with Miss Strict's recent updates courtesy of StrictSpanking.com which includes a classic update, more fave schoolgirl punishments and a cracking new update andfree clip special! So enough of the waffle, check out the girls below, starting with Emily Baxter thrashed a home, over Uncle's knee whilst her aunt, Miss Smith sternly holds her hands so she can't squirm and wriggle! Emily is such a peach!!!
CLICK IMAGE BELOW for the FREE CLIP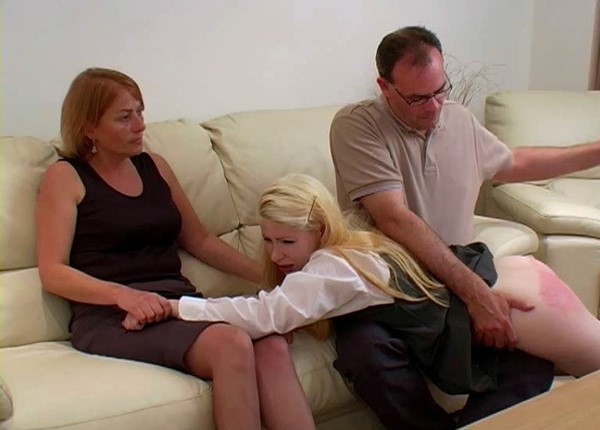 There's a couple of butt blistering image grabs below which you can also view…

2 of my fave girls, Jasmine and Jodie were in this absolute classic and I hadn't viewed this for ages, so it was nice to see that this movie has been purchased by Miss Strict and allowed to be shown here for those that want to view a different site with a fine collection of spanking vids and also some EXCLUSIVE stuff, which I'll feature underneath making StrictSpanking a damn fine site to be a member of.
Schoolgirl fights, check out the FREE galleries of Jodie and Jasmine featured in this movie, and then a very very sexy OTK of Jasmine's oh so pert bottom over Miss Smith's knee!
…and prepare yourself for oh so cute Jasmine's spanking…
you just gotta love the way she complains as well! Cold shower, please!
Phew! Without wishing to get you all hot under the collar, StrictSpanking have this lovely gem, Angelina in this Exclusive movie out now to download. View this never before seen clip of her spanking before she faces the cane! She's so scared, she needs to go to the toilet!!!!
***********************************************
Another favourite of mine I have just seen is a girl called Nyssa Nevers who I've featured before (enter her name in the search function)  – the lucky folks at Punished Brats have her stripped and bent over a knee for another hard thrashing! She's so cute and has the best facial reactions, as well as a gorgeous red bum! See what I mean below…from the latest film "Secret Papers"
Research intern Nyssa shared top secret project information with competing scientists. Lucky for her, the board will continue funding the project anyway. Not so lucky for her, she has to be punished.
************************************************
From a site I haven't written about much recently comes 2 pleasant surprises, I knew that Pandora Blake had starred in some Diseno Media films (from pain4fem) I think it's 3 now, but I was glad to see SpankingServer havenow featured her on their updates as well as fellow spankee Amy Hunter. Both girls of course try out the infamous implements, contraptions restrainst and the "spanking Machine" which looks and feels horrific by all accounts! Check out some pics of Pandora below – don't forget to read her blog (you'll see it in my side menu) as she also gives you a far more detailed account of her time in Eastern Europe.
…& some more choice images of Pandora featured below, click to enlarge.
Amy Hunter is featured below with an equally delightful reddened sore bottom and fantastic reactions…
See MORE of both girls EXCLUSIVE to SpankingServer.com
OK, I promise to be back soon, enjoy these cracking updates! Chief 😀