Tiffany & Jodie together at last in glorious unfettered High Definition? Oh boy, HDspank.com has one of those RARE movies of severe schoolgirl punishment administered by strict Headmistress Madame Jessica who really takes no BS off these 2 giggling missfits! I urge you all to check out the Home page HERE or click on the link below which is showing a really good caning scene of Tiffany's heavy chunky bottom that you can clearly see getting marked with each powerful stroke of that awful rattan rod!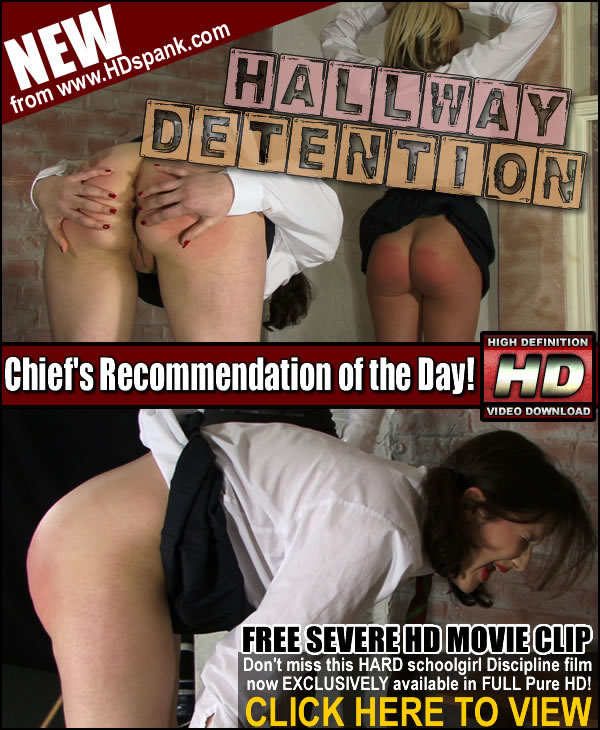 As I said, I really DO Recommend this beauty of a movie, it's around 15 minutes long and these girls get it good! I have also cut you some images taken from the movie, those who know about the proper HD quality of these film will be glad to know that the cams get in nice and close to the rearguard action!

That poor Tiffany really could take a helluva strapping and a caning and as you saw from the clip, her firm chunky teen buttocks were starting to welt beautifully, the sign of a very naughty girl!
ALL HD Movies – ONLY HD Spanking Movies – AVAILABLE HERE
I have also seen that at SPANKINGONLINE there is a SPECIAL LIMITED 2 WEEK TRIAL OFFER
This is a decent 2 week trial offer, giving you a real chance to view and download a genuine amount of spanking movies without the stupid rush of many 3 day or those ridiculous $1 offers, which incidentally I hate at many sites as they are rarely trouble free! If you are of the ilk that thinks, "whoopee" virtually free spanking on a 3 day trial membership (obviously forgetting to cancel said rebill then going nuts afterwards to customer support…sigh) then taking time off work to download download DOWNLOAD til your hard drive is burnt out, then fair enough…bravo, hardly in the spirit of things… which is why you'll find 3 days trials at the Xerotics Group of sites very rare nowadays!

This is a genuine offer to take a decent amount of time to look around and view download and appreciate and it's half the price of a normal monthly membership! CLICK HERE FOR MORE INFO
Ok, back later with my gorgeous spanked Japanese teens from MY Hard Drive!
Regards
Chief