I have searched a few websites with some high quality updates and also added a couple from my own hard drive which deserve being shown.
So I'll try keep the chatter down and show you what I've been viewing this weekend, some of this is top notch spanking entertainment with some quality girls getting thrashed across their various sized and various shades of red buttocks!
So first up, from Dallas Spanks Hard (and you KNOW he does) is poor wretch, 18 year old Keagen whose mesmerising chubby bottom (due to what I think is too many cream cakes by the looks of it) gets a wibbly wobbly thrashing from Dallas with the added humiliation of being stood upright in the water bucket! See below:


Sweet and innocent looking, Keagen took on the challenge of getting whacked by Dallas, see the images below.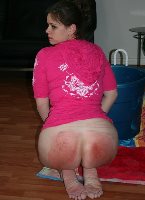 Wow! That last pic you get to see the results of her thrashing!
Dallas Spanks Hard website features over 90 girls, including some very well known models like Samantha Woodley, Sierra Salem, Pixie Amber Wells and Niki Flynn as well as glamour models like Kordelia Devonshire and even, more recently, a Penthouse Pets who bends over his lucky knee to try his hand out for size!


Check out this special promotional Clip which shows some of the many girls Dallas has spanked and see for yourself.

CHECK OUT THE TOUR PAGES OF DALLAS SPANKS HARD FOR MORE INFO ON ALL HIS MODELS
Elizabeth Simpson's latest movie update features her dominant side again and as I've already covered, however, I just found this FREE gallery that is promoting the movie and it compliments the FREE MOVIE Clip on her Home page HERE. What can I say? I have already raved over Paige many a time, she's just lovely, has the ass of an Angel (I presume) and I just *love* the way she reacts to anything whacking that cute cute butt of hers…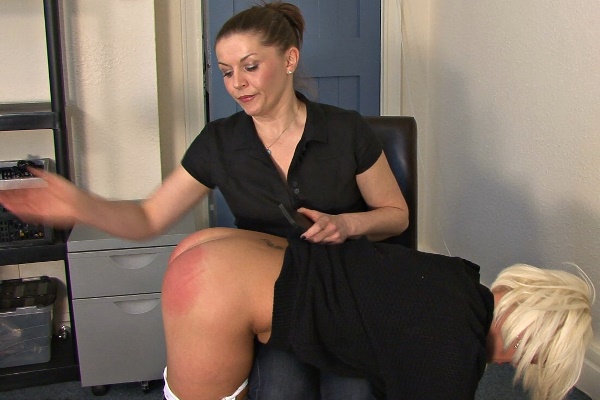 Paige and Elizabeth can be seen Exclusively in this movie only at SPANKMYBOTTOM.com
*** SPANKING NEWS UPDATE ***


SPANKMYBOTTOM NOW HAS A LIMITED FULL ACCESS TRIAL OFFER FOR 2 WEEKS
CLICK HERE TO ACCESS ALL ARCHIVES FOR JUST 15 BUCKS!
***********************************
Punished Brats has a model I have waited to see spanked again for a while, Beverly Bacci. This time, David Pierson is the man to step in and get this girl's bare wobblesome ass over his knee for a delicious and firm red ass spanking!


Beverly didn't think getting a reckless driving charge was a big deal. Her father's lawyer friend, Mr Pierson, would get the charges thrown out of court. She never anticipated that instead of a fine and a suspended license, she would be facing a trip over his knee! Enlarge the images below for some scenes from this recent update!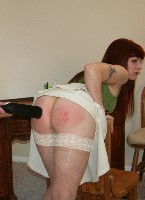 To see some FREE Clips and the very latest updates – CLICK HERE – to visit Punished Brats
Schoolgirls, we all love to see them with their knickers pulled down getting what for – and I haven't watched this classic from SpankedSchoolgirl for a while, a short sharp OTK movie with a twist, as it features the very lobvely wobbling globes of Jessica who rarely switches so it's a great pleasure to view her prostrate over the knee of Miss whimpering, instead of her dishing out the punishments! From the clip below, that luckily I don't have to host 😉 check out her whimpering and wobblesome cheeks as they are spanked, I actually got very aroused watching this film seeing the tables turned on her! It's worth the membership fee just to see the whole movie and it's only available from SpankedSchoolgirl.com


Jessica is spanked by Miss Bradley for lying

Next up is a stunning Czech model called Katerina Hovorkova aka "Kelly Norton" and she has starred in many vanilla porn films/shoots, been a playmate etc – more interestingly she also did some spanking films with SpankingServer and when you see the pics below and the special clip you'll understand what a find this was for Karl and co.
Ist though, let me acquaint you with this girl at just one of many sites incl big names like Twistys and Hungarian Honeys that she modelled for.
You can click on the thumbs and you should be able to get the larger images. Damn…and she's into spanking!!!!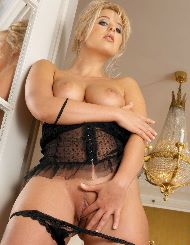 (Above pics c/o Hungarian Honeys)
So as well as being one of my most played models from SPANKING SERVER, I can't believe I hadn't showed you her amazing body and arse spanked until now! So "Right Click" the below image or CLICK HERE as this is also about 20 mb worth of top spanking! To preserve my bandwidth I will be removing this in approx a week or so, SO MAKE THE MOST OF IT!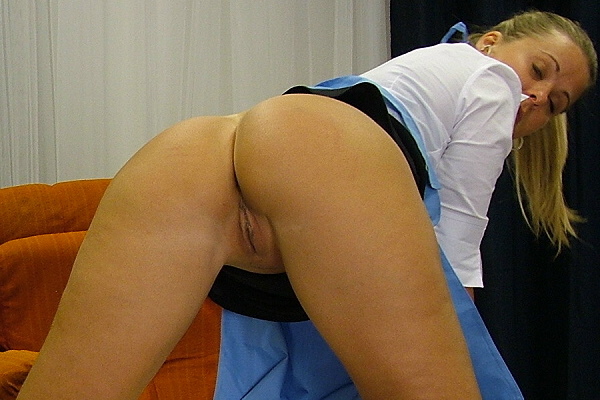 Alternatively, as a member of SpankingServer – All Kelly Norton's punishments are available to you. See some more scenes below, check out the Czech (sigh) beauty…



Wow! her green eyes, cracking body, smooth pornstar slit and gorgeous spankable arse, what a combination! COLD SHOWER ALERT!!!
WANT MORE OF HER? SEE MORE HERE
So finally on my voyage around the world in 80 dubious spanks, back to Holland and Mike at Real Life Spankings who I consider a very lucky man having this babe, Jolie, naked over his knee! I love reporting and updating this blog when I have serious "wood" recounting the girls or various punishments and you only got to look at the images below to see that Jolie is pure filth, sex on a stick, and having that arse over my knee, thrashed, would be too much for ol' Chief' blood pressure…LOL
She reminded me of a hot Dutch girl called Monique I once knew when I lived in the south of France (in my youth)…


This is what Mike had to say about Jolie:
We happened to be in the neighbourhood when Jolie came back from work and when the little minx came home, she was wearing a very short denim skirt with a top that had half her boobies hanging out.
Well if she wanted to flaunt her body at work she might as well do it for us!
I told her to strip completely and stand with her legs spread, hands on her head waiting while I finished my drink. Then I put her across my knee and gave her a good spanking. I then ordered her to go and fetch her own hairbrush and I gave her a taste of what will happen to her bottom if she does not wear the proper attire to work. Then it was in the corner for the little madam!


See Jolie's movie which just happened to give the Chief some serious "Wood" at Real Life Spankings

Phew! OK, promise to be back soon with some NEW spanking updates and exclusives, so don't stray far!
Chief