Some interesting and also some naughty updates for you to pore over today!
Jasmine, one of my fave models, has been flaunting her stuff again at SpankedSchoolgirl, it's a movie with a difference this time as she slowly striops off her school uniform and talks to us as she slowly gets naked. What a naughty filly she is! Of course, this is a very complimentary film to her many spanking films and blistered butt on display at SpankedSchoolgirl
Click on the special presentation page – guaranteed to arouse and tease!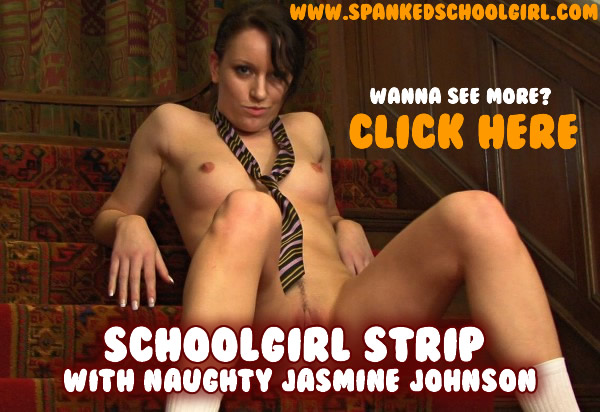 SpankedSchoolgirl members get to see the film out in FULL HERE
I can't remember if I featured new girl Louise, my memory is failing me, but the theme of getting thrashed BEFORE school and sent packing is one I think we should see more of. Louise admitted that this was often an event that happened to her in her school days not so long ago, and was understandbly nervous when she did the movie, bringing back memories of a red uncomfortable bottom on the school bus and sitting on those hard plastic seats in class, shifting uncomfortably from cheek to cheek…ah enough, I'll let the presentation page below do the rest ! 😀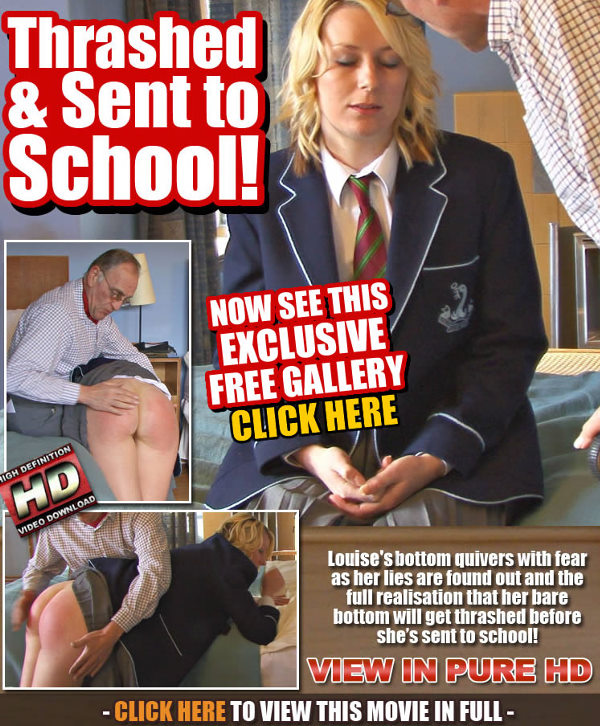 Louise and Columbian sexpot Angelina are starring in a brand new movie from SpankingDigital.
At the time of writing, this interesting movie isn't out yet so it's a fabulous exclusive to you early readers! To save me time, there WILL be a 30 second presentation clip on the HOME PAGE HERE so don't forget to click back if it's not there, it's due out in a few hours anyway!
Called, Spanking Interviews – it focuses on both girls and the 2 Doms of the day who discuss their fetish, their lives etc and finally we get to see more bare buttocks thrashed for the final time of that day's particular shoot. You can imagine that the girls were weary, but still smiling – they were great troopers and to any of you gorgeous budding spanking models out there – Drop me a line and I will forward your details to Casting!
Anyway, check the Movie below and some movie grabs EXCLUSIVELY from this blog, not available anywhere else at the time of writing.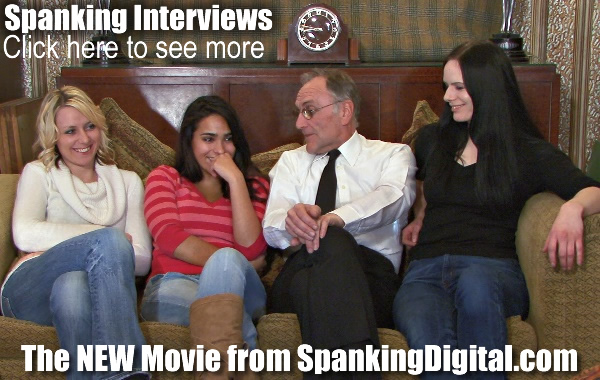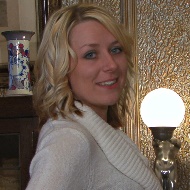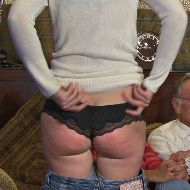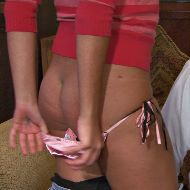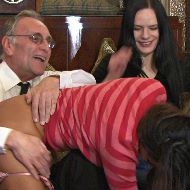 OK, I did a mailer yesterday featuring a Classic old spanking movie with a fantastic theme, dragging yer neice off to the woodshed for a good old fashioned thrashing! Ah, I forgot about this great movie, a chilly location, much whimpering and the leathering of a lifetime for the hapless Cat, her buttocks and breasts hanging down in shame! Anyway, this was found at FETISHFLIXX and I also watched this movie again starring the Polish cracker, Angelina – who I reckon is the best blubber in the business, she could whine and snivel for Poland, and often did! This movie, "LATE FOR GYM CLASS" was certainly no exception, check out the link both these movies at the images below – ENJOY!

Finally, had to share these pics with you from REALSPANKINGS.com which stars Sarah, at first spanked then paddled in her panties, and boy, does her pussy hang heavy in her knickers, what a magnificent sight from behind!!! I've renamed it camel Toe Spanking, but I know these are teasers, check out their archives for the complete set and movie from 2004! It's worth it!

 
Mmmm, what can I say? A woman looking so vulnerable such as Sarah! See the extra pics I got below 😀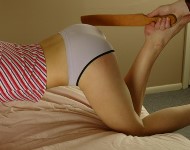 EXCLUSIVE to Real Spankings

Back soon with tons more content, so don't go too far! 😉
Chief.