Hello everyone, I am going to be updating this and my other blog far more often so if you don't want to miss out on some cracking clips and special exclusives that I will be bringing you (and boy do I have some fantastic stuff coming over the next few weeks) then always check back, signh up on the RSS feed or visit the links that I provide to some real quality spanking sites and action! For example, this darned blog has got so popular that if I put up a large clip, my bandwidth gets hammered, so to compromise in the long term, if I place up a great long play clip WHICH WILL ALWAYS BE AN EXCLUSIVE – I'll advise how long it stays and I'll replace it after, say 2 weeks, with a much shorter one. Let me know what you think, as if any of you know, when my bandwidth gets hammered, it's me who pays the price, literally….
Anyway, any feedback on these issues (the server I use is damn good so you'll always get a decent download rate, I hope) is ALWAYS welcome.
First up is a classic remastered Domestic Discipline movie from SPANKINGMAGS with the very lovely Heather Stanton and some jerk off who looks suspicioulsy like the Chief! Heather is a lazy slut (art imitating life..heh heh) who has been told to clean up the kitchen time and again, well, now we get to see this uppity tart get it good, check out the gallery and free clkip below, and some nice camera angles shot up between her thighs to reveals her pussy creaming under the influence of a sustained spanking! Mmm! I remember it well 😀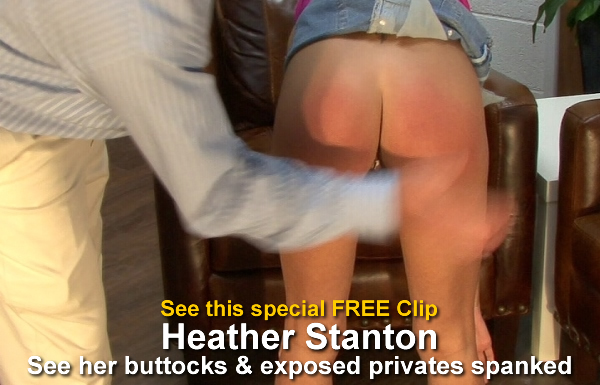 The full movie file will be available to download EXCLUSIVE to SpankingMags.com
Next up is a site I don't often promote but since I got a membership to it to see more of the very lovely Justine, wow, what a little gem of a site it is! Continuing the Domestic Theme, this site does EXACTLY what it says on the tin…Spanked-at-Home.com features real life spankos who film their experiences for the website. From what I've learnt, they are given the equipment to film and then produce these movies and then the good folk who own the website edit the footage for us mere humble viewers. Now Justine is a mainstay on the site, there are now 4 girls featured, Justine from Norway, Maddy & Kathrin from Germany and new girl, Scot Amy Hunter now contributes with her fantastic bubble butt getting spanked and more!


So enough waffle, check out the stuff below and take a good look around the site tour pages, it has a lot of free stuff to tempt you to sign up, and believe you me, it's worth the fee! From one happy punter to another, check out the images below.

 
From a fave movie of mine, this has Justine getting found out (as she always is) by Arnold that she's messed up her school assignment. He's furious and this time takes it out on her with a humiliating bath brush punishment that really hurts! If you checked out the FREE Clip above you'd have seen  the embarrassing position Justine ended up in, poor girl!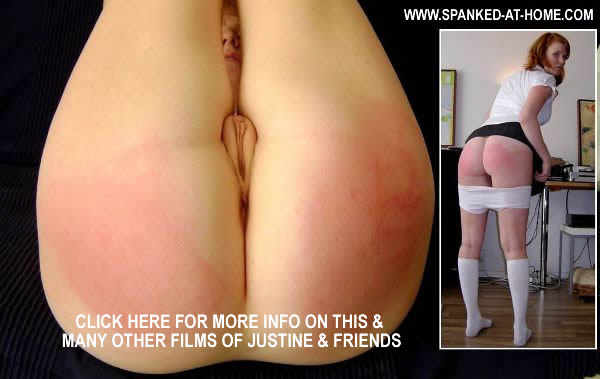 As I said, there is also "newbie" Amy at this site which makes it a very worthwhile proposition, as you'll see below: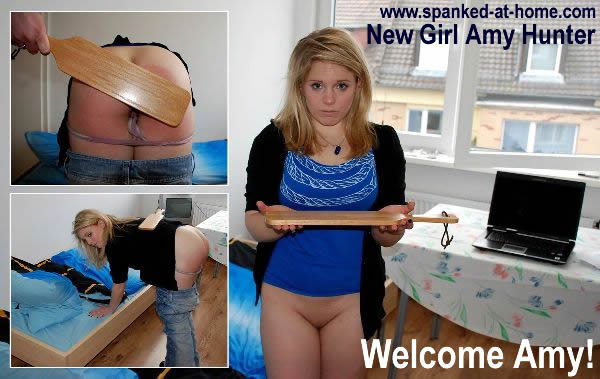 Check out the Extensive TOUR PAGES for more info and content!
We are going round Europe today as I visit another of those sites with great editing and some amazing girls from Holland.
Going Dutch? It must be REAL LIFE SPANKINGS (in English, of course) and this week there is a first outdoor spanking/switch scene as the weather here in Europe slowly improves!
I love outdoor punishments – you'll love this girl too! I hope to see more of Julie 😀


Julie gets her sexy chunky bottom whacked & whipped with the switch stick til it's striped red! You'll want to really watch this thrashing as this teen's fresh young butt turns red in the great outdoors! Julie's soft bottom is stinging and throbbing like crazy as the stick swishes in the air and licks her cheeks again and again till she can't take anymore!


Real Life Spankings resident Mike had this to say about whipping Julie's large bottom…
"Here is our first outdoor spanking this year and the unlucky recipient is Julie! The weather here in Holland is changing for the better so when I found out that our Julie had taken a day off work due to the nice weather, I ordered her to take a bus to our spot in the woods, pick a switch and wait for me!" When he arrived she had picked a nice whippy switch and she was soon bending over holding a pole while her bottom felt the sting of the switch. After her thrashing Mike took her straight to work for the rest of the day with her bottom red & stinging with shame.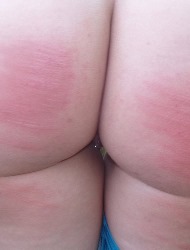 See all of this great movie HERE
Finally I had to finish with this new film update OUT NOW only at STRICT SPANKING that stars that fantastic and mesmerising bottom of naughty schoolgirl Cathy! This is a great slippering movie for those , like myself, that prefer this method of discipline. Nothing stings better than a carefully time swat of the plimsoll, that's for sure! Check out Cathy's large welted bottom in these amazing vid grabs from the movie. Best viewed in, ahem, private, door closed in a darkened room…
ENJOY!


There's a shed load of Exclusive films here now at Strict Spanking, so it's a site well worth checking out!


Regards
Chief