Got some cracking updates and a couple from my archives to share with you all today!
First up from the ever improving and fast becoming a firm fave with me – STRICTSPANKING.com
Miss Strict has a belter of an EXCLUSIVE update starring a stunning NEW girl that I have worked with and I know that you WILL simply adore some future updates with htis beauty. Make way for ANITA, a real belter with a flawless pale skin, I think she's of Irish origin (she had a twang of the ol' accent…anyway I'll let these images do the talking, you might see I had some fun with an earlier mailer I did…anyway, enjoy, I think I'm in love again!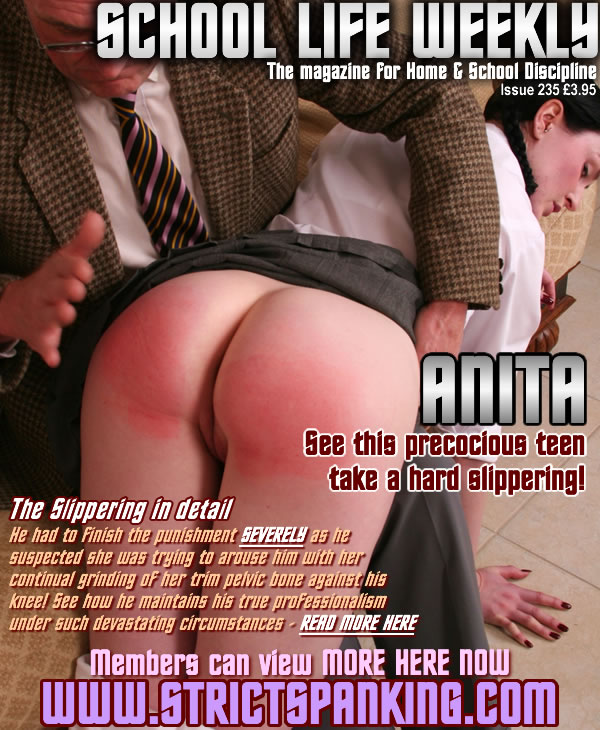 Check out her images I've taken from the members are of STRICTSPANKING for you
Girls-Boarding-School has a fresh new intern called Molly, she looks like a natural blonde, very nice! Anyway, what I liked about this update, apart from the nice intrusive up crack shots and her drooping labia as well as that lovely red ass – is the fact that she's being punished with a Carpet Beater, yikes , it looks painful!!!
CLICK HERE TO VIEW MOLLY'S NEW HI RES SPANKING MOVIE
Stateside now and this is from my archives, the very perky Claire at RealSpankingsInstitute gets a further lesson for avoiding detention, or trying to, what a foolish young lady she was…
Mr Daniels uses a hard leather strap against her luscious behind and I had to say the sight of her reddened cheeks had me reaching for the cold button on the shower!!! Check her out below.

See Claire and her colleagues getting thrashed and paddled hard as only Americans know how HERE!
Finally, as we're on a schoolgirl theme, I just have to remind you that SpankingOnline, which features a multitude of Schoolgirl Spankings – has a SPECIAL TRIAL OFFER still available. It's proving very popular, from past experience, when a certain threshold is met they close off the offer, so if you wanna take advantage of this cracking 2 week deal – CHECK IT OUT HERE
Have a great weekend all
Back soon, Chief.