This is a repost of an old update I did for Bun Beating Fun – but as I was looking through some of my archives (how sad is that?) I came across this old post I did over 18 months ago, I thought you'd like to see it again as it covers some really old material and a very naughty girl getting the full Mystery Spanker treatment!
The post below is copied almost word for word from this post in 2008! Enjoy, as the site is well worth a visit.

Got a couple of clips for you from BunBeatingFun.com
The first is an old movie, when I mentioned it to Greg, the site owner, he told me it was made over 11 years ago!
All I can say is I'm glad I got to see Monica, a very horny, very bratty model who gets the treatment!
Greg, you lucky man! She reminds me of an old girlfriend who behaved just like her!  😉

Click on this special REAL Media Clip below that I cut earlier and you'll understand!
CLICK HERE TO SEE MONICA's Punishment!

Now that was an oldie, & I'm sorry if it was a bit of a tease, but I wanna keep herself to me and Greg's members!
All I will say is Monica is HOT and her squirming under a sustained spanking for 15 minutes was a joy!
This next update is of a great model called Sasha Sparks!
Seems she's heard about Greg and his trademark ear pulls and no nonsense humiliating OTKs!
Click on the this link for the latest WMV promo clip HERE
I have made some pics available from this latest movie update. The bratty model, the impending feet of Greg who catches her and places her across his knee!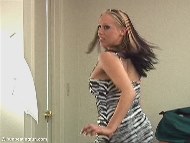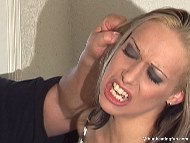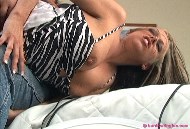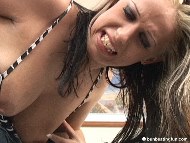 We are also treated with a rare paddling scene, such was the need to sort out this young lady!

Check out the HOME PAGE for the most recent updated clips of the brattiest glamour modles getting it good in sleazy New Jersey motels!