Knickers down, or "Moment of truth Time" as I prefer to call it – is always a special moment for me as in each and every spanking discipline, this is the time a girl becomes, whether she likes it or not, truly submissive, to bare her bottom and privates, it's the ultimate in giving in, no girl, in any real punishment, would willingly submit to such a role – unless it's a sexual role play but imagine if it reallky is at at school or performed by an angry relative or guardian at home – no, this is submission, alright!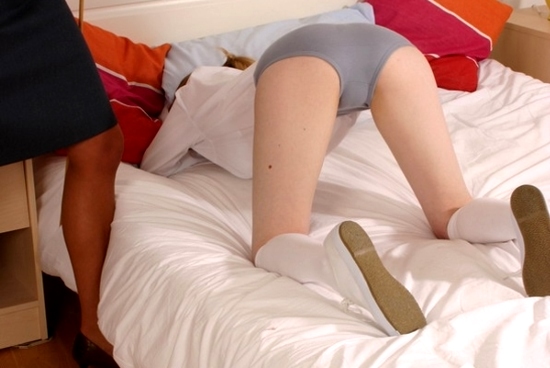 Above gallery c/0 REGULATION KNICKERS (all new spanking and punishment site) – check out their NEW Tour pages and see for yourself the revamped look and naughty girls punished in their uniforms and bottoms bared for punishment!
Oops, I was digressing – It's this moment that I always cherish when seeing new girls, girls who have been bratty and those that are already complaining like hell about their impending punishment – GET EM OFF, GIRLIE, time to see what you're made of and time for you to feel the hard hand or rod of discipline on your exposed naked cheeks!
I collected the below images from some of Clare Fonda's sites and in particular a model I hadn't realised she had used, Chloe-Elise, a girl I'd just *LOVE* to have over my knee, if my ol' ticker could handle such teen wriggling buttocks (I'm sure I could muster the strength though!)


Above Gallery taken from Clare Fonda's highly popular "EXCLUSIVE EDUCATION" series – CLICK HERE for more
Also available via Clare's MULTI SITE PASS HERE
BONUS GALLERY EXCLUSIVE EDUCATION SERIES 3 (via the MULTI SITE) – CLICK HERE

Check out the images of Clare in some of these as it's time to remove those knickers! Click on the images, they all lead to full galleries and full size images from the movies they advertise! Enjoy.

Finally, how apt that Chloe-Elise is spanked as a no good Call Girl (below) – just looking at her splayed out is making me drool, lol!

 
FULL MOVIE CAN BE VIEWED HERE AT SPANKED CALLGIRLS
MMmm, must be the Adios Effect!  😀
Chief