Hi everyone, I have some cracking stuff for you today! Focussing on teen and brat punishments! Mmm
Arrogant teen Katie (or Cat as she was also known) really didn't like this caning and bratted her way through it, nothing stoic and brave, she just HATED baring her luscious chubby cheeks and having them welted with the cane, well, I'm sorry, but don't look to me, dear, for sympathy, you're NEVER too old for a thrashing, as this wonderful movie shows!
Remastered and ONLY available at SPANKINGMAGS
CLICK BELOW FOR A HARD CANING & 12 IMAGE SET of this film
The FULL Movie is now out and it's totally EXCLUSIVE & fully remastered to SpankingMAGS.

Kailee has been featured all over the Net at various websites both sides of the Atlantic, however, I feel that her best work was with Girls Boarding School, maybe because Headmaster Tom wasn't swayed by her natural beauty and just gave a her damned hard thrashing time after time, proving that this beauty "could" take a proper punishment and as you'll see from these images below, her wide chubby bottom marked up beautifully after a caning and a paddling!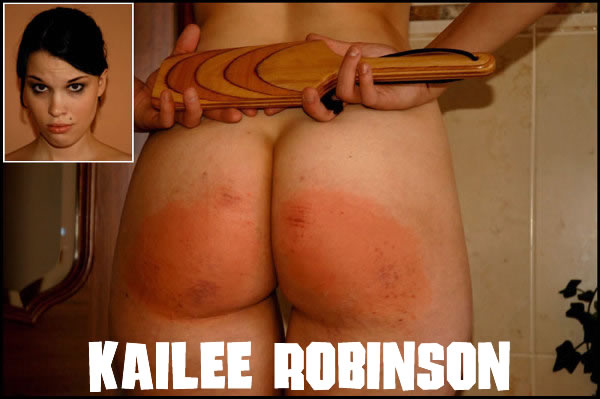 Seriously, you'll find Kailee in the vast Girls Boarding School archives, and this set below was outside by the pool from their villa in the Med (very nice) – hot weather, HOT botty pics!
Click on the thumbnails below for some of my fave images from this paddling punishment.
CLICK HERE for more of Kailee's archived movies at GBS
I just finished watching this movie from SPANKED AT HOME with the very naughty redhead Justine from Norway – I don't know, if ever a girl "asks for it" it's Justine, filmed earlier this year (see the snow outside her apartment) this movie I watched is called " A lot of Trouble" (one of about 20 or so from the approx 80 full titles you can download now…)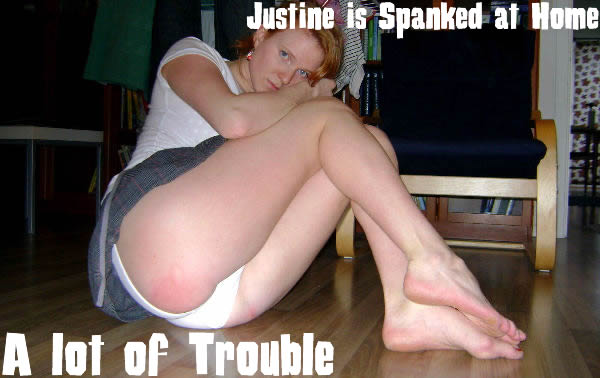 Arnold comes home a lot earlier than expected and finds Justine sitting on the floor, smoking cigarettes and drinking Martini and the whole living room is a total mess! As if this isn't enough, Justine even tries to get herself out of the trouble by lying about it. So there's nothing left to do for Arnold than fetching the "Lexan Paddle" to give Justine a proper thrashing for being a slut about the house! Click on the Thumbs below for some choice pics of the film!

Finally from StrictSpanking, here's the movie of aige in tears as she's first thrashed over Headmaster's knee, then her sore swollen bottom is strapped – she's not happy and the tears reveal exactly what she thought of her latest punishment!
 See the FREE Movie Clip of her spanking, it's certainly NOT patty cake! yikes!!!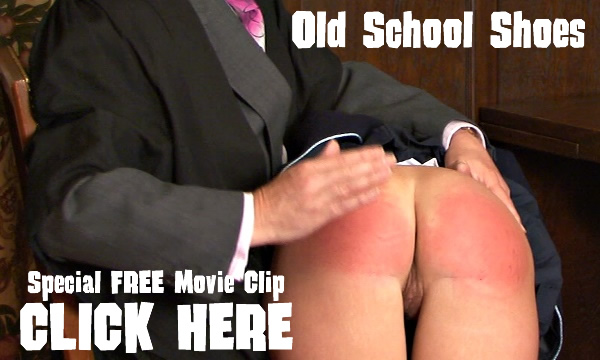 I have managed to get a few images below which show the rest of her punishment, as far as I'm aware, this is a FIRST
It's EXCLUSIVE to SpankingBlogg, you know I look after you, right??
CLICK HERE TO SEE THIS MOVIE OF PAIGE NOW AT STRICTSPANKING

Enjoy!!!!
Regards, Chief.
PS: be aware that there are tons of TRIAL OFFER Specials out there, at any of the sites I've featured here, they'll be obvious if available as the front page will have a blindingly obvious TRIAL OFFER Banner!
Good hunting!