Phew, there's a heatwave going on here in the Uk at the moment, not sure how long this will last, but it doesn't take much viewing of the latest spanking content to send me off for a majot cool down, so I'll be as brief as poss otherwsie I'lll be unable to finish this post due to heatstroke and frustration/exhaustion, LOL!
Brand new film from BRITSPANK is a filthy schoolgirl movie and a very humiliating storyline featuring Hannah (below) who has been caught out in an inspection by Matron who is horrified by Hannah's inability to wipe her bottom properly! We see Hannah waiting for the full horrible slippering punishment by Headmaster, and there's a FREE Gallery & slippering clip which you can check out (click image below)
This is a totally exclusive movie that will also be available later this week in Full pure HD – I can't wait!
CLICK HERE for the FULL Movie out now
************************************************
NEW at the amateur real couples site, Spanked-at-Home starring new girl Nadine is this cracker of a movie called "A Special Job Offer". Personally for me, Nadine, Justine and Amy make this site worth every penny and I genuinely look forward to their updates at this site to see what these real life couples get up to! What you find is that the spankings and punishments (in this case Nadine is beaten with a carpet beater) are quite often much harder than many "Studio Productions" and quite intimate. Check out this very latest FREE gallery elow!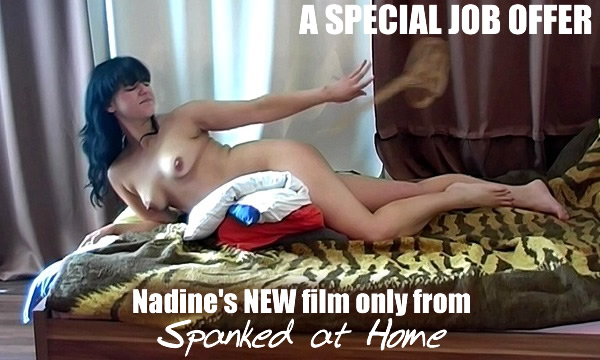 Looking for a new job, Nadine is shooting some naked photos of herself for a model agency – not even thinking about a serious job offer. When Alex enters the room, he is shocked and angry at her brazen slutty behaviour. He orders her to lay down over a bunch of pillows to have her bottom right up in the air for a severe spanking with the dreaded carpetbeater!
SEE THE FULL MOVIE EXCLUSIVELY HERE

*************************************************
Finally, although not entirely a new update, it's a new site so I guess many of you won't have seen these amazing ass & real tears pics from DIVINECATS – check out the real size samples (click on thumbs for the larger pics). Warning, contains welted buttocks and real snivelling tears!
OK, I gotta rush, melting here, off for a Pimms and to watch Andy Murray on the telly try and do the Brits proud at Wimbledon
Toodles….
Chief