Pixie has sent me a whole load of spanking goodness as well as the very latest updates featured below, there are some great "COMING SOON" images from their very latest film shoot and these will be showing on the site within a week or so. I start with one of my fave alltime girls from America, (I told David about her, and said "More More More!" ) She's amazing, and has the BEST facial expressions of any girl spanked and cries so beautifully! I am talking about the wonderful Nyssa Nevers (I have the hots for asian chicks anyway, as you all know) I don't know how Mr Pierson keeps his cool when she's wriggling and squirming over his knee, I'd be calling "CUT!" and paying a visit to the Loo, LOL!
CLICK ON THE IMAGE BELOW FOR THE FREE GALLERY & FREE CLIPS
Nyssa is the "Young Teacher" – she desperately wants her pupils to like her and doesn't discipline them, if at all. Principal Pierson finds out when the classes are disrupted and he teaches her a lesson she won't forget in how to discipline unruly pupils! I've included some extra images below, because she's a doll!!! Just check out those facial expressions and her lovely red rump! Oh my…
CLICK HERE TO DOWNLOAD THE FULL LENGTH MOVIE OF NYSSA

CLICK HERE FOR A BONUS NYSSA NEVERS GALLERY
I have to compliment Pixie and David for their work at Punished Brats, Pixie is absolutely adorable and some of the girls they are now getting in are just amazing, take the really bratty Chloe Elise (below) – this is from her latest movie "Football Folly"
Chloe is tired of waiting for David to finish watching the football game before giving her a ride to the mall, but when she disconnects the cable to hurry him along, he puts her over the armchair and paddles her bottom instead! Incorrigible brat Chloe is left clutching her sore, red bottom, but she is still whines about not getting her way. Will she ever learn? See the images from the thumbs below!
CHLOE'S MOVIE CAN BE VIEWED IN FULL HERE
Finally, some sneak preview pics from the last Film Shoot and some FREE galleries from recent productions which include gorgeous girls being punished by Richard Windsor, Chelsea and Veronica but to name some!
COMING SOON to Punished Brats!

Charlie was spanked by her parole officer after dismantling her house arrest anklet and sneaking out. The naughty little criminal should have figured a way to sneak out of her spanking!

No doubt that candystriper Tina Tink makes the patients feel a little better when she walks in the room, but she got in big trouble with Dr. Veronica for distributing medication … and a few other suprising acts.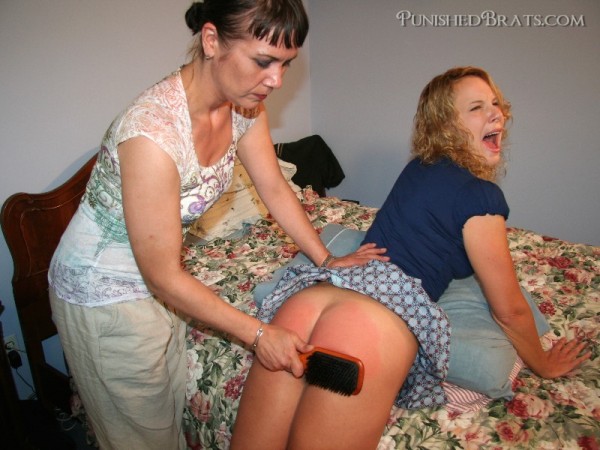 Veronica is always threatening Pixie with a spanking but never follows through. But much to Pixie's dismay, she finally makes good on her promise.

Mr. Pierson is fussy about his pool and does not appreciate the neighbours swimming in it without permission!
Finally, as promised, a few recent updates with more Hosted Galleries and movie clips to show you what is currently available to members of PUNISHED-BRATS including some really great ones starring Pixie!!! Just click on the images below:
ALL ABOVE FULL UPDATES ONLY AVAILABLE FOR PUNISHED BRATS MEMBERS HERE
Ok, you get the idea, right? Punished-Brats is rapidly becoming my American choice site as you'll see from the above….bravo, Mr Pierson. I hope he doesn't mind me once again offering my condolences here publicly and thank you to Pixie for working so hard keeping the site tip top and up to date as usual! OK, I'm off for my 2nd cold shower of the day, such was the hot updates from above and it's only 11am local time…phew!
Laters, Chief.