I am including this post in my Classic Spanking Update as it contains a visit to SpankingMAGS and their excellent remastered movie starringthe one and only Nikki Montford in what was probably one of the severest films I had ever witnessed in person…"Punished Parts". I have also included some new update and some bonus content to keep you all occupied 😀
So to start with, from SPANKINGMAGS – it's a movie I have covered before probably well over a year ago, but this time I have got you some additional never before seen images and definitely a clip you've never seen, even if it is a bit of a tease, you should watch this all and you'll appreciate what a hard hitting and very real punishment movie this was! I remember it used to top all the PPV downloads way back in 2004/05 when it was in some low res RM format at just 360kbs, well, this movie is in WMV and a lot clearer as you'll see below, the trademark of SpankingMAGS, even the older movies like this one are remastered to a very high standard!
So first of all, please check out the new FREE Gallery below of Nikki Montford's punishment.
Nikki is facing a really humiliating punishment after she had been caught playing with herself and she has been told that this punishment will be SEVERE, all her privates will be punished, all that makes her a woman will be punished, by that, she'll be spanked, slippered, strapped and caned in various embarrassing and exposed splayed positions, first clothed then naked, except for her school knee length socks which I liked) and no part of her escapes, whether is was a hard pussy spanking and strapping, or a quick swat to her breasts or exposed anus. But her bottom and thighs bore the brunt of this sustained and very nasty punishment as you had seen from the images above. Now if you've seen this movie, don't skip my review here, as you may have forgotten just how good it really was, first of all, check out my own 1st bonus clip below as Nikki is chastised and very submissive! Contains some explicit scenes, be warned.
PLEASE CLICK HERE FOR THIS 1ST BONUS MOVIE CLIP
Ok, I hope you are understanding why I liked this movie, the latest newest movie clip I have exclusively made for Blogg Readers here contains a part of her punishment (which you'll see is quite severe) and the scenes towards the end where Arnica cream has been rubbed into her sore welted cheeks and thighs, we get to see Nikki rubbing her bottom to ease the pain and some nice gratuitous close up shots, I promise you WON'T be disappointed!
As in all severe movies of this nature, I fear I have to WARN THOSE THAT might possibly be offended by such severity – just don't view the clip. For everyone else, feel free to download and view, it's a scorcher!
There are some fantastic films of this nature at SPANKINGMAGS and I hope that I have helped persuade some of you who may not have seen this utter classic that it's worth a peek at SPANKINGMAGS or take a second look at the site HERE as it's worth every penny! This film alaone was over 20 minutes of real and sustained punishments!!!
FULL MONTFORD MOVIE DOWNLOADABLE HERE
***********************************
OK, how to follow that? Phew! Well, now for something completely different but equally humiliating for the girl in question. It's an exclusive movie update to the revamped DIVINE CATS website and contains some good embarrassing hard slippering punishments, which I enjoy immensely. You'll recognise the snivelling, the sobbing and those dark rounded cheek, as well as Miss Bradley's Red Slipper, but this is only available as part of the RED SLIPPER series of films I know that this site will feature! This is PART ONE and I've managed to get you some free content for you to review yourselves.
This lazy exchange student should have been clearing up rather than loafing about reading rubbish magazines about tittle tattle, her cheeks and arrogance earns her Miss Bradley's RED SLIPPER!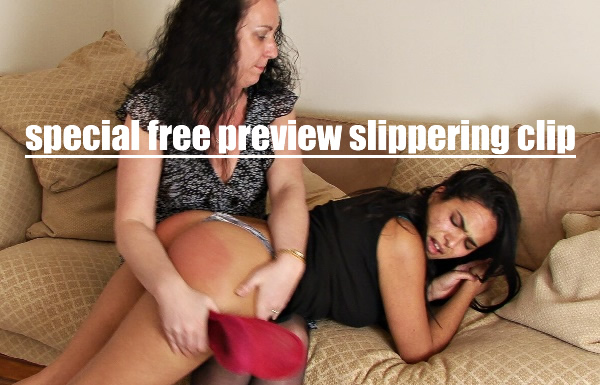 THIS FULL MOVIE IS NOW OUT TO VIEW HERE
***************************************
Finally for now I said I'd have a few bonus updates, so check out these cracking galleries of some stuff I had been watching earlier, courtesy of SPANKPASS (don't forget to check out their special extended long term offers on their CCBill sign up pages, these are their lowest ever rates!)
Mmm, I love it when Miss Smith gets thrashed, a real role reversal and she can really teach these young pups a thing or two about how ladies take their thrashings wth a little more dignity than the bratting we so often get nowadays! More Miss Smith punishments across the SPANKPASS NETWORK HERE