Got you some cracking news from Spanked-At-Home – yup, Justine is back and getting it as good as ever! However, this hot Norwegian lassie really turns the temperatures up for us poor old 'uns watching her punishment in that cute cute uniform, and those very sexy socks as well as getting her bare bottom severely, and I mean SEVERELY thrashed!!! What a horrible looking paddle! Love it! Click on the image below and check out the FREE Gallery on the Home Page of the site!
Remember, as well as featuring Justine (and she's in many films) there's also my new lust object Aileen, a cute tiny asian beauty who adds real quality to this site, (check some of my previous recent posts for Aileen) along with another cutie, Nadine, both girls are from Germany. Anyway, redhead lovers, today's object of spanking lust is gorgeous girl next door, Justine, and I thought I'd also remind you of a film below which I loved watching, Arnold, her partner, takes NO CRAP from her foolish lies, and you know she's gonna get caught out…heh heh!
Remember, these are REAL GIRLS filming in their own homes with their real life partners, given Hi Quality camera equipment to film their home made adventures, if you've dithered about this site previously, I can recommend it for you, yes, they speak in their own language, but you get the idea of what is going on and it's all real and that's what I feel matters, as well as the very reasonable quality of the WMV Movie Playback which I always find important!! You have the Chief's seal of approval that this is a great site I have and will continue to sign up to!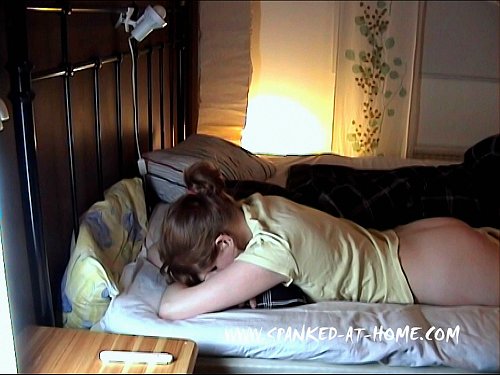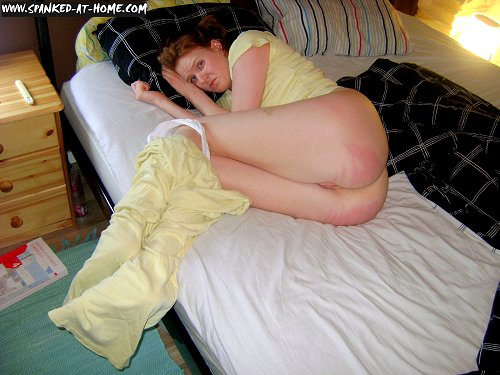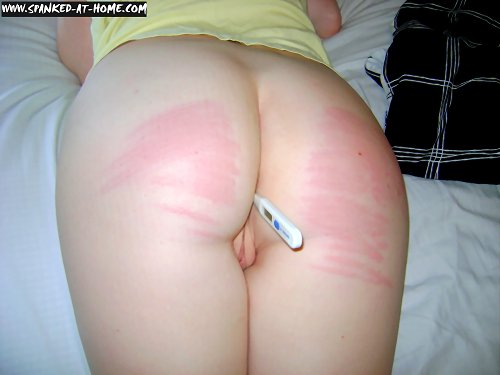 The story of the images above: Arnold finds Justine in bed when she's supposed to be ready to go to school. She excuses herself saying that she's got a high temperature. Arnold doesn't believe her and decides to take her temperature with a humiliating rectal thermometer just to be sure. As expected, Justine's temperature is absolutely normal. In fact, the real reason she felt "unwell" was because of the wild party she went to the night before. This disrespectful behaviour leads to…The CANE!