Check out Aileen! She's the latest addition of amateur models, who are real life spankos given camera equipment and told to show us what they get up to in private! This is what SPANKED AT HOME does! It's as real as it gets and I have been enjoying some fresh stuff from this site recently. However, Aileen is a real winner, she adds to the girls such as wonderful redhead Justine from Norway, tasty big bottomed brunette Nadine (with those cum to bed eyes), Maggy, who really is a naughty girl with a bum that can take a hell of a punishment, (as well as Amy Hunter who I hope to see more of). So here is Aileen's 2nd film and this very trim girl of Asian extraction with her sexy big almond eyes and tight arse really does it for me!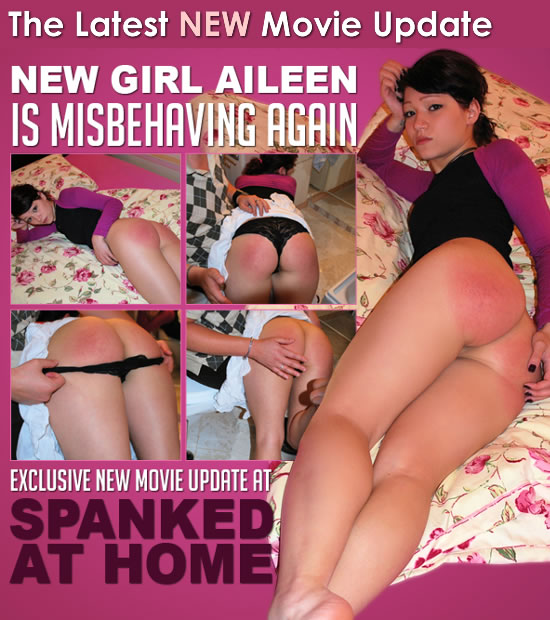 Check out these image below, taken from the latest film "Good Girl Gone bad!"
See why the Chief rates Aileen s very highly!
WARNING: Do not view Aileen's punishment in tight fitting trousers!
Thinking that she is all alone at home, Aileen is getting ready to go to a party – right in the middle of the week. Unfortunately Alex is coming home earlier than expected and finds his girl all tarted up in the bathroom. After a short discussion, he takes her over his knee for a nice hard spanking first over her skirt and very soon on her her beautiful pert bared cheeks!
SEE MORE OF THIS NEW UPDATE HERE including news of all other recent movie updates. Want something a little different? I can highly recommend this site!