Clare Fonda has surpassed herself yet again as she brings us this excellent new production at Girl Spanks Girl (fast becoming one of my fave sites) with the long play FF spanking and punishment videos. Luckily for Clare, she's such a fine host, I hear, that the spanking girls just "LOVE" to spend some time at her place in "The Valley" and of course, the adorable Amber Pixie Wells recently made a tour of the West Coast and visited Clare again as well as other fabled spanking producers out that way!
What a subject! The Lesbian Landlady, LOL…the title sounds so wrong and naughty, and in the first part that I've seen…it damn well is! I've got you a special link to the first part now out with a free video clip and wonderful images of both Clare and Pixie's wondrous bare ass! Just click on any image below and it will go to a special free Lesbian Landlady download page.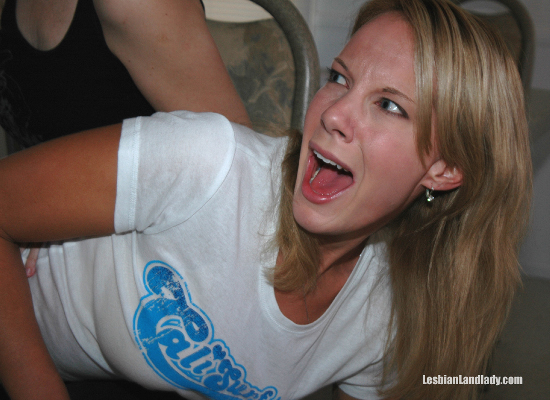 In this first episode Amber Pixie Wells plays naive Pixie who stumbles upon Clare's "FOR RENT" sign. Clare is horny for innocent looking girls and lets this delicious young hottie stay for free! But she can't keep her hands off Pixie. After spying on her in the shower and smacking her ass around the house, Clare gets jealous that Pixie has a boy over and it erupts in a furious spanking.
Hell hath no fury like the Lesbian Landlady scorned and Pixie is forced to crawl and fetch the hairbrush for more OTK punishments. Now she is Clare's little pet. She waits in the corner with her panties stuffed in her mouth for Clare to take her for a walk. Now that Pixie has learned nothing is free  – she will face more domestic disciplinary challenges in further episodes of "The Lesbian Landlady".
Can you resist watching Pixie with her girly panties down, her beautiful bare bottom fully exposed and with that gorgeous hair straightened look (great facial reactions in this movie BTW!!)
Or via the Clare Fonda Superpass HERE
***************************
STOP PRESS! NEW SITE ANNOUNCEMENT!
A New Clare Fonda site with beautiful women in diapers. Some have a diaper punishment some are diaper lovers and there's also a bit of spanking, rectal temperature taking, mouthsoaping, cornertime, and butt plugs!!! All the brand-new photos and videos are shot in Hi Def/Hi Res and starting from only $19.95 a month.
Updates twce a week  – All original content – Diaper punishments and diaper lovers
Check out these 1st show Galleries below which will give you an idea of the site and also check out the home page tour so you can see the various beautiful girls in these naughty and demeaning situations and revealing sexy punishments!