Hi everyone, hope you had a great weekend. Not sure if the clocks around the world have gone back just yet, but yesterday here in the UK, winter daylight saving time came into effect meaning it gets much darker in the evening now as the clocks went back an hour. I was out earlier this afternoon and had to use my car headlights at 4pm 'cos it was slightly overcast and the depressing wintry darkness had already crept in…I'm not a fan of cold wintry weather or winters in Britain, it's a bit too depressing and grey usually. Thankfully it's still Autumn, so there's still some colour in the leaves of the trees…anyway, I thought I'd best cheer myself up and this brat of brats from Greg's fine site BunBeatingFun.com caught my eye again.
I had her in the old format, but what I hadn't realised over the last few months, Greg…aka The Mystery Spanker, has been a very busy webmaster bee, remodelling his members area layout. I knew he was doing it, but had no idea just how much had changed til I checked it out personally when I rediscovered it today – and I'm impressed!
CLICK HERE for the SAMPLE MEMBER AREA PAGE
What you now have is a clear members area, all models are listed on one page, it's a long page that scrolls down and I've included a screen shot of just part of it above – (I gave up adding further screenshots and adding to it to make one image). So you find the gal you like, click on her image and it leads to a seperate download page where you have a few clear cut options: Download the movie pegs, download the movie in clips or in full, and you have the choice – in all newer movies of WMV High Resolution (I likey likey), lower dial up resolution for those without Broadband and also the same options for those that prefer Real Player downloads. Impressive! Click link below for an example of Keli Anderson, who I have watched and chosen so you'll find a review (below) with a couple of free clips and a few images so you know what it's about.
The Keli Anderson member Area screenshot page (example)
Ok, onto the very naughty Keli Anderson. Now you'll know these girls end up shooting at the many and varied seedy Motels of New Jersey, and this motel room is no different. Understandably the girls get all shitty and have an attitude longer and more messed up than the Jersey Turnpike!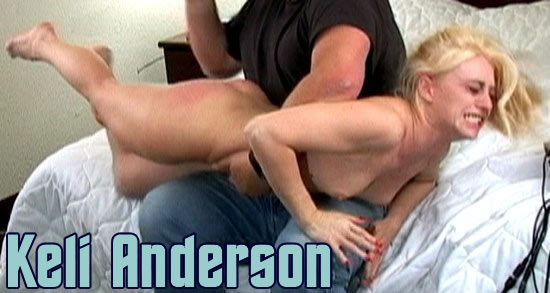 Here is Greg's story of events:
It was a frigid February morning when this bewitching little blonde crossed our doorstep but the chill that followed her in had little to do with the weather. "I hate mornings and I'm in no mood for any of your shit" Keli announced to our associate Terry by way of a greeting.  Keli's behavior once the camera shutter began clicking quickly confirmed the veracity of her declaration as if any such confirmation were necessary.
On the plus side, Keli looked every bit as good as her modeling portfolio had led us to believe and so our steadfast associate anticipated getting some very fine images nonetheless.  Unfortunately her model would prove utterly lacking not only in social graces but also in anything even resembling motivation.
That's when Terry wisely elected to put down the camera and pick up the phone."
See some sample images from this movie below:
Keli is a screamer, when she's taken over Greg's knee for a damned good spanking, her whimpering and snivelling soon turns to loud sobbing and shrieking as her bottom feels the relentless force of Greg's shovel hands turning her bottom a dark red. This is a long play movie, around 25 minutes and poor Keli really gets one of the hardest spankings I think Greg has carried out. Whether Greg takes pity on this very pretty wretch or not, I don't know, but he relieves her burning red ass with some ice cubes, now remember that Keli was writhing around naked over his lap, and I gotta admit, if she was thrashing like that on my lap, and I had a chance to "cop a feel" down between her legs and caress her breasts, I think I'd feel pretty horny too…so it is no surprise that as Keli gets off on the soothing ice cubes – Greg has some filthy thoughts…much the disdain ofhis assistant Terry! See the spanking clips below and I've cut out any rude bits, members can view all that privately…LOL! Enjoy!
Now remember this is just 1 film of about 75 at the time of writing (I hadn't counted exactly) -but there's Gigs of decent spanking data here, this movie was around 500Mb to download in the newer format, so you'll get the idea! I promise to do a full and proper review of the site sometime soon, I usually get distracted but I hope from what you have seen above that this site definitely deserves a second look. There is an extensive tour page on the HOME PAGE HERE so check out the girls. Now if you also want to see my previous free reviews and galleries from this site, just type in BUN BEATING FUN into the search box on the sidebar >>> and you should find all my previous entries!
Check out the varied money saving offers such as low rebills of just $15.95 and longer term membership deals, many of the older films are being remastered along with fresh new models so a membership here is well worth the entrance fee! It gets the Chief's "thumbs up"…

Have a good one!
Chief