It's been a while since I reviewed and let you see what is out at PunishedBrats – and great things come tot hose who wait! Oh boy…where do I start? Now since the sad news that beverly bacci is to retire from the online spanking scene, I have taken another look at her and to be honest, I'm quite simply smitten with her. Thankfully, there's ton of her content out there across a few websites and some of her best work as a Sub and  Domme is at Punishedbrats
See for yourself in these 2 recent updates, showing us the wonderful diversity of Beverly, by God, has she got a sexy smile and a cute arse..WARNING! The Chief has serious wood 😀
Beverly caught her college room mate Lilly snooping through her mail and even eating the brownies she was sent from home. Bev has had enough of this intrusive blonde bimbo and gives her a well-deserved hairbrush spanking which you can see below!
CLICK HERE for a HOT PREVIEW CLIP
Ok, what about Beverly taking a good thrashing? No problem, the full movie of her with Mr Finch (who looks like a mafia don from Goodfellas), I'm sure he's a nice guy, unless messed about by Beverly then it's all tears!
Wow! Check out the images below, and I gotta say, Bev looks HOT in her fishnet stockings, I love a girl wearing stockings and suspenders during a spanking, it's a fave of mine, but who am I to argue? From the movie "Customer Relations" check out poor beverly's sore red bruised bottom as Rad Finch is a very upset business customer who takes it out on her bottom when she messes up big time bringing her to tears!
CLICK HERE FOR A FREE STRAPPING MOVIE CLIP
I can never include a PunishedBrats update without the gorgeous Amber Pixie Wells, and in her latest movie update, she is looking damned HOT as you'll see below. I don't think there is a better looking girl with those telling facial expressions when her bare bottom is getting a good thrashing…and of course, what an arse as well!!!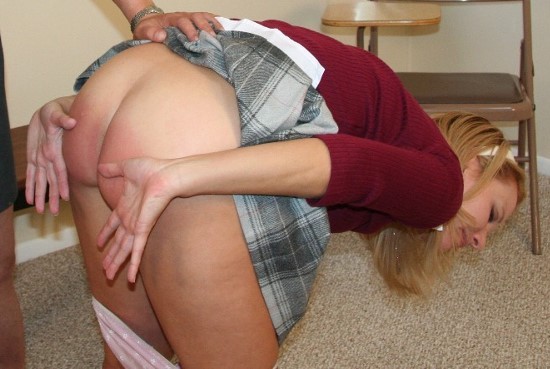 This is a great film and of course, with Miss veronica Bound in charge of detention…the last thing you want to do is fall asleep during her Detention…but that's what happens to Pixie and what follows is a proper rude awakening for the yummy blonde!
Cute panties removed, that's quite a fearsome paddling Pixie gets, if that doesn't wake her up, then nothing will!
CLICK ON THIS LINK FOR A SPECIAL PREVIEW CLIP!
& Finally, we can't have a recent movie update without Mr David Pierson, who I have to say, is looking rather fortunate to have the very pretty Charlie Skye over his knee, I am sure he's wearing reinforced "Anti-Wriggle Underwear" (tm The Chief) to stop these brats from causing any unecessary distractions in the trouser depeartment, I have ordered a gross of these things and can recommend them to stop naughty minxes from trying to make The Chief kinder in his approach to spanking their arses HARD!
Um, I was digressing, please check out what happens to cheating Charlie (forging a note) below:
Charlie is the last girl in her class to be sent to the disciplinarian's office, but when she forges a note, she's found her "ticket to trouble".
CLICK THIS LINK FOR A FREE CLIP OF CHARLIE'S PUNISHMENT
Hope you enjoyed these updates free clips and catch up on what is happening at Punishedbrats!
Don't forget that there is also a great feature called "Pixie's previews" which shows you the very latest and forthcoming  movies and here's a teaser below…yoinks, Mr Pierson, I hope you have your protective undergarments on!!! This new film looks fantastic!
Check out their Extensive tour pages HERE and one of the LOWEST MONTHLY membership deals on t'internet for all that lovely spanking content! A Chief's "thumbs up"….enjoy! How could you not?
Regards, Chief.