How depressing, where has this year gone? Really, it's scary, don't you think? Or is it just me, to be honest, I can't wait for this miserable year to end, it's been a depressing one personally, and though I shouldn't discuss my woes on here, I'm pretty fed up with things at the mo, latest crap is having a laptop break on me and the one I'm writing on about to go the scrapyard as well after 3 years hard work…it's just more F*cking money to spend, isn't it? Be actually nice if I had some…anyway here we are in November, the leaves are falling quicker than Paige's knickers in this very latest and very rude titled movie out now from SpankingDigital
It's called "Fucking is Forbidden"
Click on the image below which will lead to a free movie clip.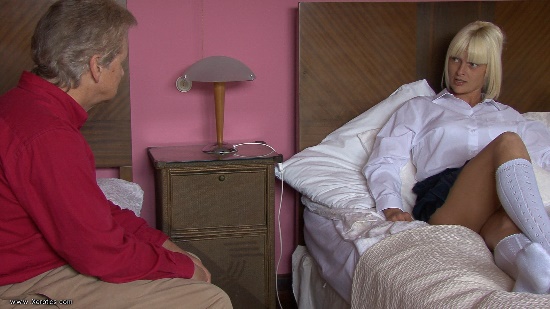 So Paige has been caught out fornicating with boys and it is strictly forbidden in her household, even after the friendly chat, she ignores the pleas to respect other people's wishes and rules under their roof and her sheer filthy arrogance gets her into trouble as she is told to remove her tight white panties and prepare herself for a nasty spanking and bare bottom leathering if she can't behave responsibly like an adult! Check out the lovely image grabs below of this most delectable teen temptress…that's cheered me up!
A remarkable view from a most delightful British teen spankee, I'm sure you'll agree! If you want to see MORE of Paige, check her out at SpankingDigital, or the 4 SITE SPANKPASS which contains shed loads of her stuff!!!
I also couldn't help but admire an equally alluring blonde teen from Holland called Stacy, who has a similar build to Paige. Check her out below, yup, if she's Dutch, that means only one thing, she's being punished at REAL LIFE SPANKINGS
Isn't she gorgeous? Check out come images below of Stacy! Some nice facial shots and bent over Mike's knee snivelling and tear stained as he tans her bare behind! Stacy also has the most amazing body (well, we're here to look as well…lol) and very cute accent, definitely a thumbs up from the Chief!!!