It's been a while since I did any sort of review, and this site deserves a very good mention, not just because the content there now boasts over 95 long play films (with some of the best and most realistic spanking/strapping and any other sort of scenes you care to mention) as all the girls who star in this are real life spankos who have permitted us to see their personal lives on film! There have been a few guest appearances with spanking stars such as Amy Hunter who starred in a few films (speaking better German than I'm capable of!) and Kristin who is one of the residents on GBS, but mainly, with new girl Aileen (who is simply adorable) we have 4 main girls now who provide us with some amazing content.

Firstly, I have been hosting some nice free galleries and movie clips at Barebottom.biz (check out both sections regularly and you'll see they get updated often!) to highlight some recent updates, so please click on any image below to check out the very beautiful asian hottie from Germany called Aileen, couldn't you just melt into her almond eyes? mmm oh yes, she cries and snivels beautifully too! Either image below will take you to her recent film, "Raw Eggs".
The full explanation of this hilarious yet very effective revenge punishment is on that page, as you saw, the latest film is in fact below and Aileen is again in trouble!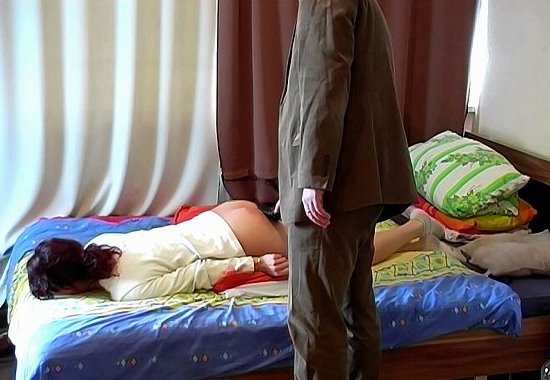 The story of this movie is again with Aileen playing pranks: Alex says "Bye" to Aileen – unaware that she has stuck a piece of paper on his back with the title "'I am gay" on it. After Alex has been laughed at the whole day during all his business meetings, when he finds out he is furious! So when he gets home she is for it immediately! Her buttocks are soon very red and bruised and once again we see real tears as she snivels and cries her way through the thrashing!
OK, so you get the picture of this latest recuit to Spanked at Home, Aileen is a naughty girl who just doesn't know when to stop fooling around! I am sure we will see much more of Aileen in future updates and new movies as I have heard she has become very popular! Ok, another girl who I love seeing thrashed is the equally naughty Justine from Norway, she needs no introduction here but I thought I'd show you a few clips of her courtesy of the site's promotional tools – please be aware that the film quality of the clips are not to the same standard that members get inside, all films are played back in Hi Res WMV as you'd expect and are easily viewable on the largest of PC screens for full enjoyment.
Just click on the image of Justine, who I have to say, gave me "wood "seeing here thrashed with those knee length socks on…thank you, Justine! Arnold is a very lucky bloke!
You can of course check out the many free galleries on the excellent tour pages of Spanked at Home – where you will find one of my favourite films of Justine (featured above) (Arnold really thrashes her hard when she tried to foolishly lie about being ill).
As Justine told me in th epast, the way this site works is that they have been given video cameras and photographic equipment, they film stuff based on what they'd normally do, so many of these stories are true life and not made up, which I think is great, it's almost as if you can see into their lives a little. They then send all the stuff off to the webmaster who edits and gets the stuff ready for the uploads for us to all enjoy! It's a great and innovative way to bring us a slightly different and interesting slant on our fave kink! Of course, what you also get to see is some genuine submissive and intimate interaction between the spanker and his unfortunate, another plus! 😀
OK, so what do you get? With the 95 films at the time of writing, you also get vid grabs/photos of the movie, an explanation of the story. (This is essential as they are filmed in their own languages). Once you know the story, watching the film in the original language (whether it is Norwegian or German, it doesn't matter that much as the scenes are self explanitary, and for me, it doesn't detract from the punishments at all!
If you had clicked on the above banner, then you'd have seen another recent girl called Nadine who has amazing come to bed eyes and a poor bottom that heats up very quickly when spanked and strapped! Again, I hope she is appearing in more films, so far she's in about 5 and I've enjoyed them all, dommed by Alex who does appear to have a stable of girls at his command!!!
Now then…The majority of films have starred a former GBS stalwart, Maggy, who I will admit I never used to rate that much until I started to download more and more of her films, then I suddenly got what she was about! In fact, she's f*cking awesome, and can take a hell of a beating. Maggy, my many apologies to you, if yoiu ever read this blog, you are amazing..seriously! Now lovers of the slightly meatier girl will adore Maggy, and I have to admit, I am not really into stick thin size zero waifs, these girls need flesh on their buttocks to react, jiggle and bounce as they are spanked and worse. Maggy has the most amazing ass, seriously it takes a hell of a punishment and you can see that when she cries and moans , it's real, and she's feeling every smack lick and swat!
Oh, she also looks great in school uniforms as well and has rather large mesmerising boobs!!!  😀
Yes, I'm a pervert, so sue me!
I have got some vid galleries below of Maggy, please remember that the actual movies are FAR superior in quality, but you'll get the idea here! & I gotta say, she scrubs up well in the photos, eh?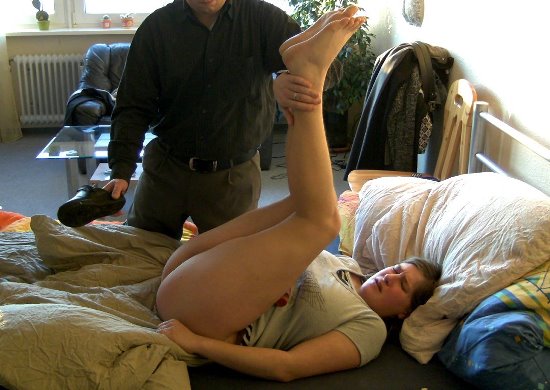 OK, the majority of films are currently divided between Maggy and Justine, with some guest appearances and the introduction of new girls Nadine and Aileen who are now featured equally in the updates  coming out which are, on a regular basis. Films are uploaded in parts and then full files and the site has 2 sign up options. 1 month will cost $27.00 (which I will admit is not the cheapest but it's also far from being the most expensive and lucky Europeans can get more for their Bucks at the moment as it is priced in US Dollars!) The content is unique and not found at any other site as well as this members area is growing into an impressive archive so first timers to this site will be kept more than busy! They also have a very reasonable 6 month non recurring membership of $90 which works out at a very fair $15 per month, this site will more than keep you interested over that period, so these longer term options are always worth a look if you are feeling flush!
Don't forget to check out the FREE galleries and FREE Movie pages of BareBottom.biz, I have added a lot of Spanked at Home additional content today as well as some older galleries etc which you'll find further down the pages! Enjoy
If you enjoyed my review and if there is any site you want me to cover, then please let me know and I'll see what I can do!
Regards, Chief.