Hi everyone, I sincerely hope you are all enjoying the festive yuletide, I had just recently got back from my Ski Hollybobs to see some family who are working in the ski resort of Les Menuires in France. It's not the prettiest of places, but it's improved a lot since the last time I was there many years ago and we had the strangest weather there. Lots of snow, very high winds, varying temperatures from -24c to +4c sunshine only on the first and very last day (which bugged me as I left) and at a big Xmas Eve event it absolutely hammered down with rain, almost ruining the fireworks festival and the torchlit descent with "Pere Noel". Then it hammered down with snow for Xmas Day so I had a very white Xmas. Anyway, couple of pics below, I got the missus to take one of me next to the advanced skiers sector, such was my prowess on my sticks! ha ha…she didn't like that! But she did as she was told!
First day out skiing, view of part of resort below and a rare bit of sunshine

Then it gets grim, me down in Meribel, and last image of the washed out Xmas Elves on Dec 24th!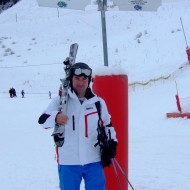 OK, enough of my nonsense, I'm now back and been catching up on some amazing spanking updates which I can't wait to show you all (below)
Today I'm featuring the very lovely Pixie Amber Wells and friends from Punished  Brats and they have had some awesome updates over the Xmas period! Please check out the below recent updates and you'll see why, this also incudes a section called Pixie's previews which is found on the main front page of the website HERE
Pixie looks amazing in her Tennis whites and even more so when she's bent over her tennis coach, Rad Finch when he gives this beautiful uber brat a much deserved bare bottom spanking!!!
Tennis Trouble – the Full movie out now! Pixie pitches a fit when she's disqualified from the tennis tournament. When she throws her water bottle at Coach Rad, he grabs her and gives her a damned good thrashing! Pixie is left with a glowing red bottom that is barely covered by her short white tennis dress. Mm mmm!
Oh my, what a start to this spanking update, eh? Pixie's red bare arse is looking divine!!! There's alos a free preview clip  if you click on the image below and you'll get to see her getting a damned good spanking!!!
Pixie's previews is a special section which shows you what is up and coming, and the below images and long play clip were taken from the last film shoot on December 12th which is now starting to become available for Punished Brats members, there's plenty of Pixie and of course the many gorgeous girls we all love, like Lily Anna, Tina Tink and Lavander Rayne all severely dealt with by Mr Pierson and Susan. Click on the large image below for a special FREE Preview (it's in RM format) and is the latest preview which runs for about 3-4 minutes! Enjoy!!! It shows them having fun on set, mucking about and then down to the hard hitting bare bottom action!
The below images are taken from the movie preview shown above: Point worth noting is that many of the storylines are requests from members! So some good interactive content definitely coming up!!!!
Finally if you're still not convinced about some of the amazing recent updates at Punished Brats, check out Lavander Rayne getting a good old fashioned whacking from a very lucky Mr Pierson, just check out his total dedication and concentration on the matter at hand as her delicious ass turns a dark red! Trouser Arousal Alert, I'm afraid!!!!
CLICK HERE TO SEE THE FREE STRAPPING CLIP!
This website is STILL one of the best value sites starting at just $17 a month with access to all their archives and present updates with America's best known and most beautiful spanking models getting the PB treatment! CLICK HERE
OK, there is nothing more to say, hope you enjoyed my "coming back" update, I will be updating the blog again later today with one of the naughtiest Xmas spanking updates with a long term fave of mine AMBER of SpankAmber, so don't go too far!!! & bring plenty of tissues!!!
Chief